Blogs
Roasted Cauliflower Soup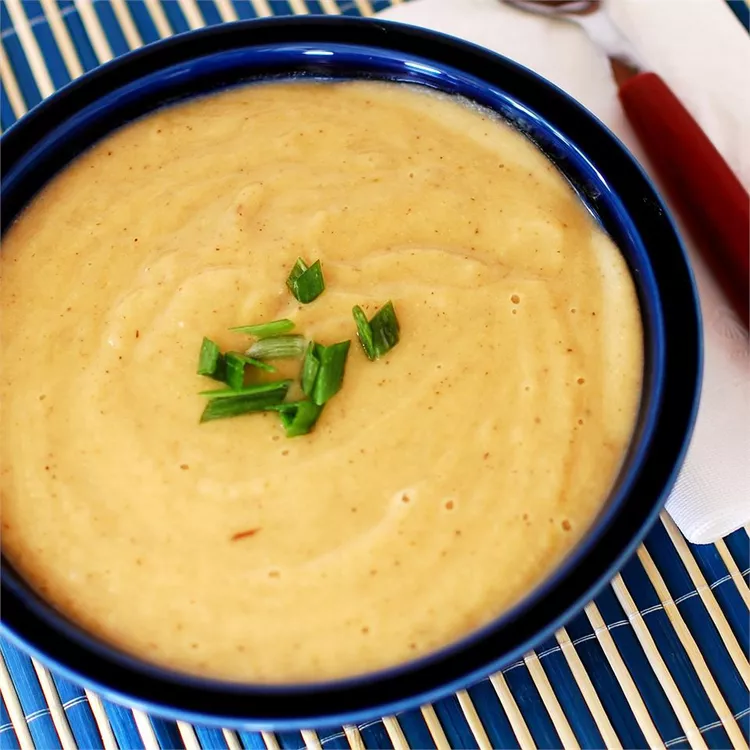 Prep Time:
10 mins
Cook Time:
55 mins
Additional Time:
20 mins
Total Time:
1 hrs 25 mins
Servings:
6
Ingredients
2 heads cauliflower, broken into florets
olive oil cooking spray
¼ cup olive oil
1 large onion, chopped
4 cloves garlic, chopped
6 cups water
salt and ground black pepper to taste
Local Offers
00000 Change
Oops! We cannot find any ingredients on sale near you. Do we have the correct zip code?
ADVERTISEMENT
Directions
Soak cauliflower florets in a large bowl of lightly salted water for 20 minutes. Drain well, then pat dry.
Set an oven rack about 6 inches from the heat source and preheat the oven's broiler. Line a baking sheet with heavy-duty aluminum foil.
Arrange cauliflower in a single layer on the prepared baking sheet; spray evenly with cooking spray.
Broil in the preheated oven until browned, 20 to 30 minutes.
Heat oil in a large soup pot over medium heat. Add onion and sauté until translucent, about 5 minutes. Stir in roasted cauliflower and garlic. Pour in water, season with salt and pepper, and simmer until all vegetables are tender, about 30 minutes. Purée soup with an immersion blender until smooth
Nutrition Facts (per serving)
| | |
| --- | --- |
| 141 | Calories |
| 9g | Fat |
| 13g | Carbs |
| 4g | Protein |
Nutrition Facts
Servings Per Recipe 6
Calories 141
% Daily Value *
Total Fat 9g
12%
Saturated Fat 1g
7%
Sodium 93mg
4%
Total Carbohydrate 13g
5%
Dietary Fiber 5g
19%
Total Sugars 6g
Protein 4g
Vitamin C 91mg
457%
Calcium 59mg
5%
Iron 1mg
6%
Potassium 628mg
13%