Blogs
LOW CARB KETO LASAGNA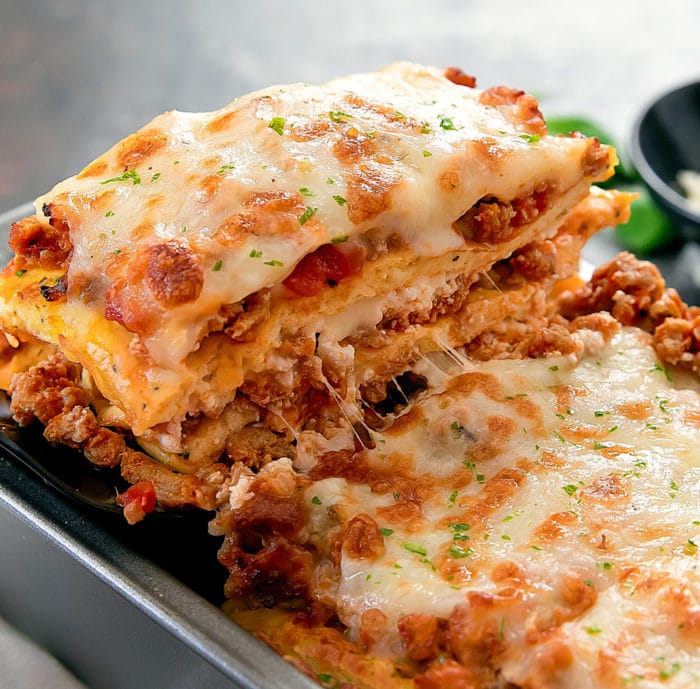 A low carb and keto friendly lasagna that doesn't ditch the noodles. This lasagna uses noodles made out of a cheese dough. The lasagna tastes just like regular lasagna
Most of the keto-friendly lasagna recipes I've come across skip out on the lasagna noodles, which just isn't the same thing for me. This lasagna recipe uses a cheese dough to create the lasagna noodles.
On its own, the noodles don't really taste like noodles. But when they are sandwiched between all the layers of meat, tomato sauce and cheese, they provide that needed noodle texture. The fact that it's made out of cheese and Italian seasoning also lets the noodles blend right in with the rest of the ingredients.
HOW TO KEEP THIS LASAGNA LOW CARB
The lasagna is low carb and keto-friendly with two big adjustments. The first step is replacing traditional lasagna noodles with cheese noodles. The second step is using a no sugar added marinara sauce.
CHEESE DOUGH LASAGNA NOODLES
These cheese noodles are based on my 3 ingredient flourless cheese breadsticks.
It's a blend of mozzarella, cream cheese, egg and Italian seasoning. When baked, the texture is just firm enough to hold its form but also quite soft, like you are eating a type of flat bread.
The cheese dough is baked in a 9 inch by 13 inch baking pan and then it is divided into thirds, creating three noodle layers that fit perfectly into an 8 inch by 4 inch loaf pan.INGREDIENTSCHEESE DOUGH LASAGNA NOODLES

1 1/2 cups shredded part skim low moisture mozzarella cheese
2 large eggs
1 tsp Italian seasoning

LASAGNA FILLING

1/4 cup onion minced
1 lb ground beef I used lean ground beef
1 cup no sugar added marinara sauce
1 tsp Italian seasoning
6 tbsp ricotta cheese
1 cup shredded part skim low moisture mozzarella cheese

INSTRUCTIONS

Preheat oven to 350F. Line a 9 x 13 inch baking pan with parchment paper.
Add all cheese dough ingredients into a food processor. Blend until evenly mixed. It should have a thick liquid consistency. If you do not have a food processor, you can mix by hand (see notes).Pour cheese batter into prepared baking pan. Use a spatula to spread batter across pan.
Place into middle of oven and bake for about 20 minutes, or until surface is no longer wet and is firm to the touch.
Set cheese noodles aside to let cool. While noodles are cooling, prepare your meat sauce.
In a large skillet, add onion and ground beef. Cook on medium heat until meat is browned. Drain excess fat from pan.
Add in Italian seasoning and marinara sauce. Reduce to low heat and cook at a simmer for about 3 minutes.

ASSEMBLING LASAGNA

Evenly slice your cheese dough into thirds. Your slices should just fit into an 8 x 4 inch loaf pan. (see photo in post for reference)
Add a thin layer of meat sauce to the bottom of an 8 x 4 inch loaf pan. Add first noodle layer over meat sauce.Add 1/3 of the remaining meat sauce across first noodle layer. Spread 3 tbsp of ricotta cheese across. Sprinkle 1/4 mozzarella cheese across.
Repeat with second noodle, meat sauce, ricotta, and mozzarella.
Add third noodle. Top with remaining meat sauce. Sprinkle on remaining mozzarella. If desired you can add a pinch of dried herb seasoning to the cheese. I like to finely crumble a pinch of dried oregano and add it to the cheese.
Bake lasagna in the middle of your oven at 350F for about 20 minutes. If you wish to get some color on the top cheese layer, set your oven to a low broil (after the 20 min bake) and let the cheese bubble and blister for about 2 minutes.
Let lasagna cool slightly before slicing and serving. If desired, sprinkle on some finely chopped fresh basil, oregano and parsley and freshly grated parmesan cheese before serving.
Nutrition facts is calculated with 90/10 lean ground beef
NUTRITION
serving: 0.25of recipe, calories: 633kcal, carbohydrates: 9g, protein: 49g, fat: 43g, saturated fat: 20g, cholesterol: 259mg, sodium: 840mg, potassium: 707mg, fiber: 1g, sugar: 3g, vitamin a: 1060iu, vitamin c: 0.3mg, calcium: 634mg, iron: 3.7mg, net carbs: 8g