Blogs
Caramel Apple Cinnamon Roll Recipe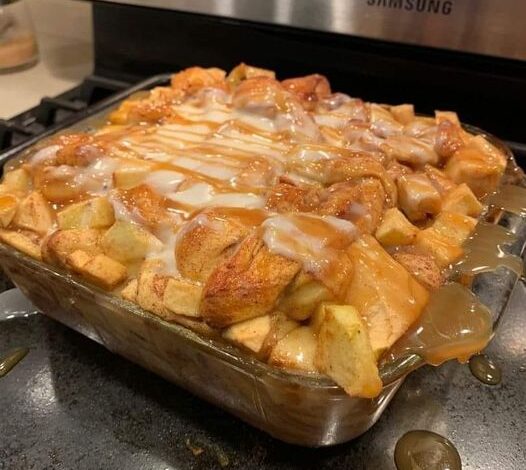 Free Keto Meal Plan : KETO DIET PLAN FOR BEGINNERS STEP BY STEP GUIDE
Prep Time
30minutes mins
Cook Time
18minutes mins
Course: Breakfast, DessertCuisine: American Servings: 12 Servings
Ingredients
1/4 cup unsalted butter, cubed
3/4 cup milk
1/4 cup water
3 3/4 cup all purpose white flour
1/4 cup white sugar
2 tablespoons powdered milk
1 (0.25oz.) packet dry active yeast
1/4 teaspoon salt
1 large egg
Caramel Apple Filling:
5 tablespoons salted butter, softened
2/3 cup light brown sugar, packed
1 tablespoon ground cinnamon
1/4 teaspoon ground nutmeg
1 1/2 cups Granny Smith apples peeled, cored, and diced into 1/4″ pieces
2/3 cup caramel sauce, divided
Instructions
Preheat oven to 350 degrees F and generously spray a 13 x 9″ baking dish with non-stick cooking spray.
Combine butter, milk, and water in a microwave safe bowl. Microwave on high for 30 seconds at a time, or until warm and butter is melted.
In a large bowl of a stand mixer, whisk 3 cups of the flour, sugar, dry milk, yeast, and salt until well combined.
Attach a dough hook to the mixer and pour in the warm wet mixture and egg. Knead dough for about 5 minutes, adding the remaining 3/4 cup of flour as needed until the dough is soft and forms a ball. Cover bowl and rest for 15 minutes.
On a floured surface, roll the dough into a 10×14″ rectangle. Spread softened butter evenly over the surface of the dough.
Combine light brown sugar, cinnamon, and ground nutmeg in a small bowl until well combined. Sprinkle in an even layer on top of the butter. Top with the diced apples and drizzle with 1/3 cup of caramel sauce.
Starting at one of the long sides, roll up to the opposite end and slice into 12 individual rolls.
Place rolls into prepared baking dish and bake for 15 to 18 minutes. Drizzle baked rolls with the remaining 1/3 cup of caramel sauce. Allow rolls to cool for at least 10 minutes before serving warm.
Free Keto Meal Plan : KETO DIET PLAN FOR BEGINNERS STEP BY STEP GUIDE