Blogs
Keto Chocolate Donuts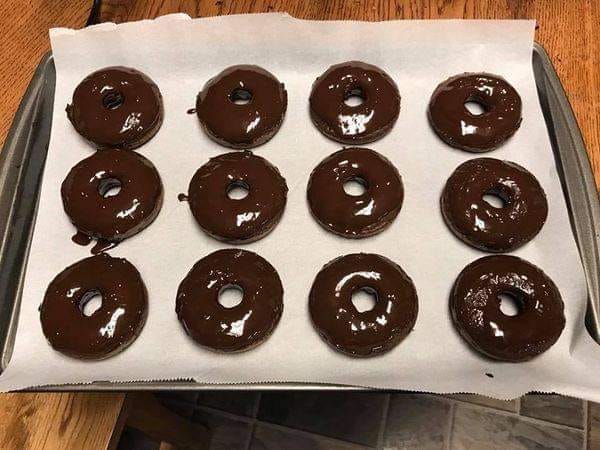 Free Keto Meal Plan : KETO DIET PLAN FOR BEGINNERS STEP BY STEP GUIDE
keto chocolate donuts Amazing keto chocolate donuts that taste almost like real cake donuts.
INGREDIENTS
Donuts:
Nonstick oil for pan
4 large eggs
1/2 cup unsalted butter, melted (112 grams)
3 tablespoons whole milk
1 teaspoon stevia glycerite (equals 1/3 cup sugar)
¼ cup coconut flour
¼ cup natural unsweetened cocoa powder (not treated with alkali)*
¼ teaspoon of sea salt
¼ teaspoon baking soda
Free Keto Meal Plan : KETO DIET PLAN FOR BEGINNERS STEP BY STEP GUIDE
Glaze
3/4 cup extra dark chocolate chips (4.5 oz)
1 tablespoon avocado oil
instructions for keto chocolate donuts
Preheat oven to 350 degrees F. Grease 10 silicone donut pan cavities.
Whisk together the eggs, melted butter, milk, and stevia.
Whisk in the coconut flour, cocoa powder, salt, and baking soda.
Fill the donut pan cavities 3/4 full. Bake until set and a toothpick inserted in donuts comes out clean, about 17 minutes.
Place the pan on a cooling rack and allow to cool for 15 minutes.
Meanwhile, in a shallow bowl, melt the chocolate chips in the microwave, in 30-second intervals, stirring after each session. Stir in the avocado oil.
Gently run a knife around the edges and center of each donut. Carefully release the donuts from the pan. Dip each donut into the glaze. If desired, sprinkle with toppings such as shredded coconut or chopped nuts, or drizzle with melted peanut butter.
Cool the keto chocolate donuts until the glaze sets, about 30 minutes, then serve.
NURITIONS Amount Per Serving 1 donuts
| | |
| --- | --- |
| Calories | 220kcal |
| Fat | 11g |
| Carbohydrates | 4g |
| Proteins | 3g |
Free Keto Meal Plan : KETO DIET PLAN FOR BEGINNERS STEP BY STEP GUIDE