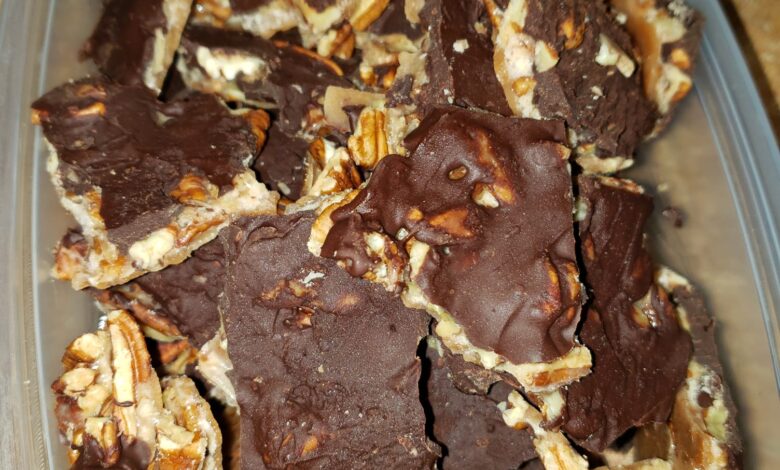 Flaky cracker crust with buttery toffee topped with melted Lily's chocolate chips, pecans, and sea salt. These Keto Crack Toffee Bars are rich and addictive.
Ingredients
Cracker Crust
1 Tbsp ground flaxseeds
2 cups almond flour
1/2 teaspoon sea salt
1 Tbsp butter melted
Topping
1 cup butter
1 cup Swerve Brown
1 tsp vanilla
1 tsp caramel extract optional
3/4 cup Lily's chocolate chips
1 Tbsp refined coconut oil
1/8 tsp cinnamon
1/2 cup chopped pecans toasted
salt to sprinkle on top of chocolate
Free Keto Meal Plan : KETO DIET PLAN FOR BEGINNERS STEP BY STEP GUIDE
Instructions
For Cracker Crust
Preheat your oven to 350°F.
Line a 13″ X 9.5″ (1/4 sheet) rimmed baking pan with foil, turning up the edges to form a tray. Spray foil with non-stick spray.
Mix the 1 Tbsp of ground flaxseeds with 3 Tbsp of water and allow to sit for 5 minutes to thicken.
In medium bowl, combine flour and salt.
Add the flaxseed mixture and melted butter into the flour mixture. Stir to combine.
Use hands to mix and form dough into a ball.
Place dough ball on prepared rimmed baking pan and press dough across bottom of pan as evenly as possible until the bottom is covered. A small rolling pin works great to get it smooth and even.
Bake for 15-18 minutes, or until crust starts to brown.
Remove from oven and cool for about 15 minutes.
Free Keto Meal Plan : KETO DIET PLAN FOR BEGINNERS STEP BY STEP GUIDE
For Topping
Increase oven temperature to 400F degrees.
In medium pan, add butter and Swerve. Heat on medium heat until mixture begins to boil. Cook for 7 minutes, stirring constantly. Remove from heat. Carefully add in extracts. Mixture can bubble up and sputter. Stir until combined.
Pour mixture over the cracker crust and spread it out so crust is completely covered. Bake for 5-10 minutes until bubbly all over.
While that is baking, melt Lily's chocolate chips and coconut oil in microwave in 30 second increments until melted, stirring in between. Once melted, add in the cinnamon.
Remove cracker crust from oven. Allow to cool for 30 minutes to form up toffee center.
Top with the melted chocolate. Use a spatula to spread the chocolate evenly all across the top.
Sprinkle top with toasted chopped pecans. Gently press pecans into the melted chocolate, so they don't fall off. Sprinkle top with sea salt.
Set aside and allow to cool in the pan. Once cooled, transfer to the refrigerator to finish setting. About 45 minutes.
Remove from refrigerator and transfer to a cutting board. Cut into about 30 2″ x 2″ squares.
Store in an airtight container for up to a week. For longer storage, refrigerate or freeze.
Free Keto Meal Plan : KETO DIET PLAN FOR BEGINNERS STEP BY STEP GUIDE
Recipe Notes
*Nutritional label does not include sugar alcohols or net carbs, so I've added that below as well as the NET CARBS.
Total Carbs: 8g
Dietary Fiber: 1g
Sugar Alcohols (erythritol): 4.7g
NET CARBS: 2.3g