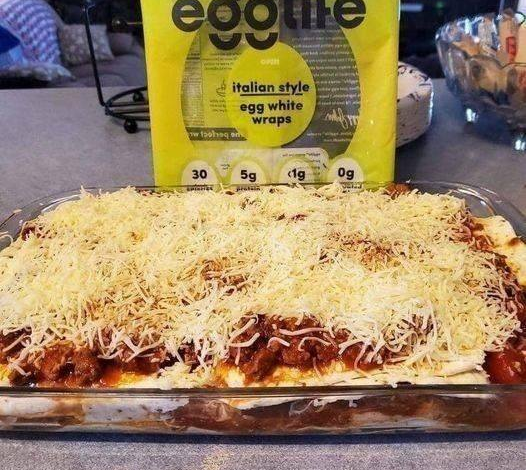 Free Keto Meal Plan : KETO DIET PLAN FOR BEGINNERS STEP BY STEP GUIDE
INGREDIENT
FOR THE "NOODLES":
2 large eggs
4 oz cream cheese, softened
¼ cup Parmesan cheese, grated
1 ¼ cup mozzarella cheese, shredded
¼ tsp Italian seasoning
¼ tsp garlic powder
¼ tsp onion powder
FOR THE FILLING:
1 pound ground beef (I get my grass-fed beef here)
1 ½ cups Marinara Sauce, divided (get the recipe here)
¾ cup mozzarella cheese, shredded
6 tablespoons whole milk ricotta cheese
1 tablespoon dried minced onion (I use this brand)
1 teaspoon dried oregano
1 teaspoon garlic powder
1 teaspoon dried basil
1 teaspoon Italian seasoning
INSTRUCTIONS
FOR THE "NOODLES":
Preheat oven to 375° Line a 9×13 baking dish with parchment paper. Grease the parchment paper.
In a large mixing bowl, using a hand mixer, cream together the cream cheese and eggs.
Next, add Parmesan cheese, Italian seasoning, garlic powder, and onion powder. Mix until all ingredients are well combined.
Using a rubber spatula, fold in mozzarella cheese and mix until well incorporated.
Spread the mixture into the baking dish, forming a nice even layer.
Bake on the middle rack for 20 to 25 minutes.
When the "noodles" are done baking, cool in the fridge for about 20 minutes and then cut into thirds. This makes three perfectly sized "noodle" layers for an 8.5 X 4.5 X 2.5 loaf pan.
FOR THE FILLING:
In a large skillet over medium-high heat, combine the ground beef, onion, oregano, garlic powder, dried basil and a pinch of salt. Cook until the meat is browned.
Drain excess fat from pan and add 1 cup marinara sauce to meat. Reduce heat to low and simmer for 10 minutes.
PUTTING IT ALL TOGETHER:
Pour ¼ cup marinara sauce into bottom of loaf pan. Top with the first "noodle" layer
Layer a third of the ground beef mixture. Top with ¼ cup mozzarella cheese and 3 tablespoon ricotta cheese, and cover with another "noodle" layer. Repeat these steps.
Cover the top "noodle" layer with remaining meat sauce, marinara and mozzarella cheese. Sprinkle Italian seasoning over top. Bake for 20 minutes.
NOTES
Be sure that you are using parchment paper and not wax paper — They are not interchangeable. The noodles will stick to wax paper, and you will not be able to get them off. It is also a good idea to grease your parchment paper.
net carbs per serving: 5.6g
Prep Time: 30 minutes
Cook Time: 40 minutes
Category: Dinner Recipes
Method: Baking
Cuisine: Italian
NUTRITION
Serving Size: 1 serving
Calories: 399
Fat: 27g
Carbohydrates: 6.3g
Fiber: 0.7g
Protein: 33.5g
Free Keto Meal Plan : KETO DIET PLAN FOR BEGINNERS STEP BY STEP GUIDE