Blogs
Keto Peppermint Patties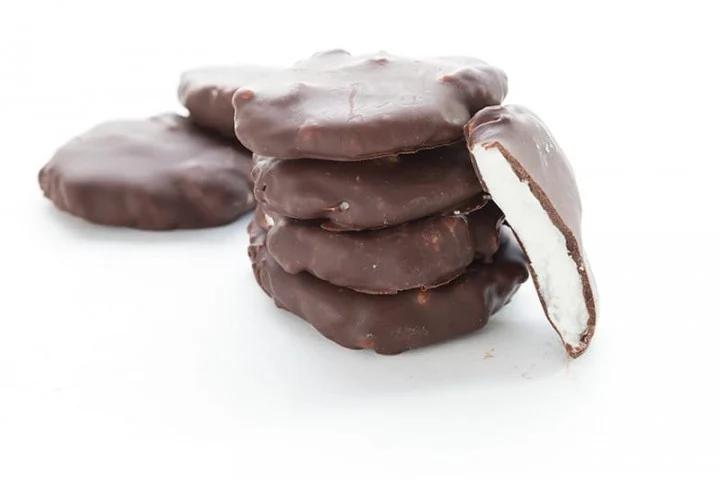 Course: Dessert
Cuisine: American
Keyword: homemade peppermint patties, peppermint patty
Prep Time: 20 minutes
Cook Time: 5 minutes
Chill time: 2 hours
Total Time: 25 minutes
Servings: 12 patties
Calories: 126kcal
Ingredients
½ cup coconut oil slightly softened
2 tablespoon coconut cream (or the thick part from a can of coconut milk)
½ cup powdered Swerve Sweetener
1 – 2 teaspoon peppermint oil or extract (depends on how minty you like it)
3 ounces sugar free dark chocolate chopped
½ ounce cocoa butter (or 1 tablespoon coconut oil)
Instructions
In a medium bowl, beat the coconut oil and coconut cream together until smooth. Beat tin the powdered sweetener and 1 teaspoon of the peppermint extract. Taste and add more extract if desired.
Line a baking sheet with waxed or parchment paper. Dollop a heaping tablespoon of the mixture onto the paper and spread out to a 1 ½ inch circle. Repeat with the remaining mixture and freeze until firm, about 2 hours.
In a heatproof bowl set over a pan of barely simmering water, melt the chocolate and cacao butter together, stirring until smooth. Remove from heat.
Working with one frozen patty at a time, drop into the melted chocolate and toss to coat. Lift out with a fork and tap firmly on the side of the bowl to remove excess chocolate.
Place on a wax or parchment paper lined tray and let set. Repeat with the remaining patties.
Nutrition Facts
Keto Peppermint Patties
Amount Per Serving (1 patty)
Calories 126Calories from Fat 122
% Daily Value*
Fat 13.6g21%
Carbohydrates 2.9g1%
Fiber 1.4g6%
Protein 0.4g1%