Blogs
Keto Spaghetti Salad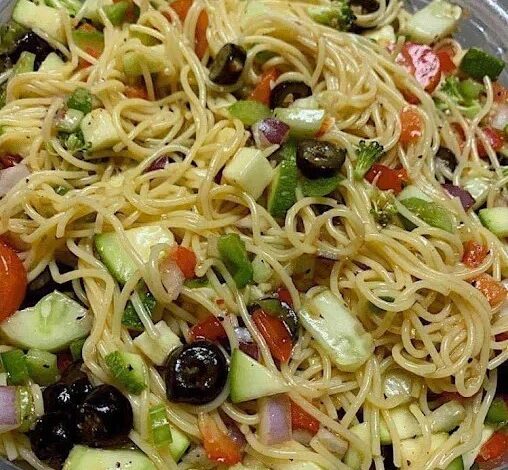 Free Keto Meal Plan : KETO DIET PLAN FOR BEGINNERS STEP BY STEP GUIDE
This keto spaghetti salad will let you enjoy pasta salad on your low-carb diet. Add your favorite veggies and cheese on top!
Course Salad
Cuisine Italian
Prep Time 20 minutes
Total Time 20 minutes
Servings 8 people
Calories 175 kcal
Ingredients
Salad
2 cans Angel Hair Palmini Noodles rinsed and drained
1 can Black Olives sliced, rinsed, and drained
1 pound English Cucumbers sliced
8 ounces Cherry Tomatoes cut in half
1/2 Red Onion diced
4 ounces Pepperoni Slices
Italian Dressing
1/2 cup Olive Oil
2 tbsp Red Wine Vinegar
2 tbsp Lemon Juice
1 tsp Italian Seasoning
1 tsp Minced Garlic
1/4 cup Parmesan Cheese grated
Instructions
In a large bowl, toss together the angel hair palmini noodles, cucumber, tomatoes, red onion and black olives until well combined.
In a bowl, whisk together the ingredients for the dressing.
Pour the dressing mixture over the salad and toss to combine well.
Stir in the mini pepperoni slices and serve immediately or chill first if preferred.
Recipe Notes
Calories: 175
Net Carbs: 5 Net Carbs Per Serving
Free Keto Meal Plan : KETO DIET PLAN FOR BEGINNERS STEP BY STEP GUIDE