Keto Diet
Lofthouse Style Christmas Frosted Sugar Cookies {Gluten Free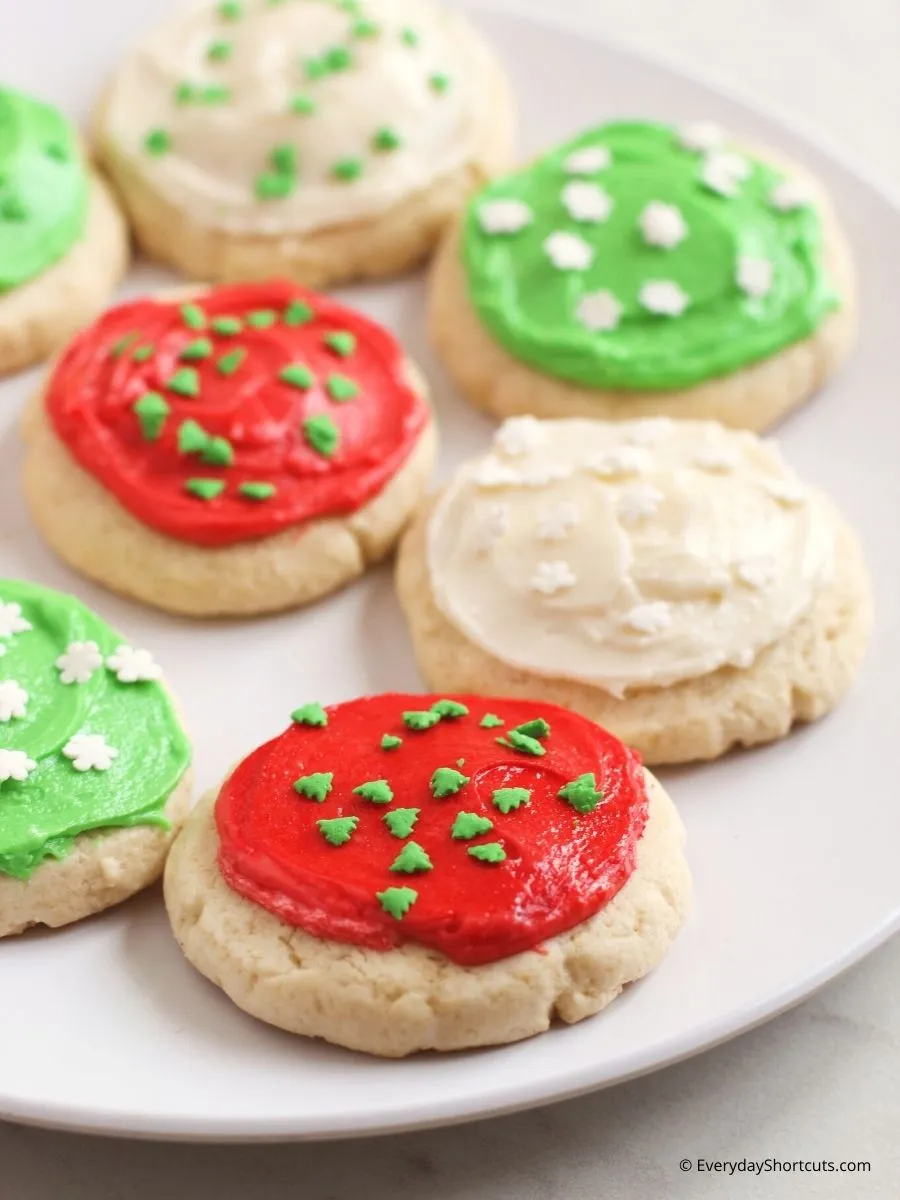 yield: MAKES 12 COOKIES
prep time: 20 MINUTES
cook time: 16 MINUTES
total time: 36 MINUTES
Ingredients
Cookie Ingredients
6 tablespoons butter, softened to room temperature
½ cup plus 2 tablespoons granulated sugar
1 large egg, room temperature
1 ½ cups gluten free all-purpose flour
1 teaspoon baking powder
¼ teaspoon salt
2 teaspoons sour cream
1 teaspoon vanilla extract
¼ teaspoon almond extract
Frosting Ingredients
¼ cup unsalted butter, softened
¼ teaspoon vanilla extract
1 ¼ cups powdered sugar
Pinch of salt
2-3 teaspoons milk to reach desired consistency
Food coloring to color frosting
Holiday sprinkles to decorate
Instructions
Preheat oven to 325 degrees F.
Line a baking sheet with parchment paper and set aside.
Using an electric mixer, beat butter and sugar on medium speed until creamy. Change to low speed and add the egg, mixing until incorporated.
Add flour, baking powder and salt continuing to mix on low speed, stopping to scrape down the sides when necessary. Add sour cream, vanilla extract and almond extract. Mix until fully combined.
Roll the dough into a giant ball and wrap with plastic wrap. Place in the fridge for about 30-40 minutes.
Remove dough from fridge and unwrap. Use a cookie scoop to scoop the dough into balls (about 2 tablespoons each) and place on prepared baking sheet. Should have about 12 cookies.
Dip the bottom of a measuring cup into a bowl of water and press the cookies to flatten to approximately ½ inch thick. Repeat this process until all cookies have been flattened.
Bake for 16-18 minutes. Allow the cookies to cool on the baking sheet for about 2 minutes before transferring them to a wire rack to finish cooling completely before decorating.
To make frosting: beat butter, powdered sugar, vanilla extract and a pinch of salt in a mixing bowl on medium speed until incorporated. Add milk starting with 1 teaspoon at a time until reaching desired consistency.
Divide frosting equally into bowls if using multiple food colorings. Stir in food coloring and spread onto cooled cookies. Decorate with candy sprinkles if desired and serve on a platter for all to enjoy!
Notes
Tips for the Best Sugar Cookie Dough
Use softened butter. Make sure that it is not melted and at room temperature
Do NOT over mix the dough after adding in the flour mixture.
Chill your cookie dough for 30-40 minutes before scooping out and baking the cookies.
Let cookies cool completely before decorating to keep the icing from melting off of them.