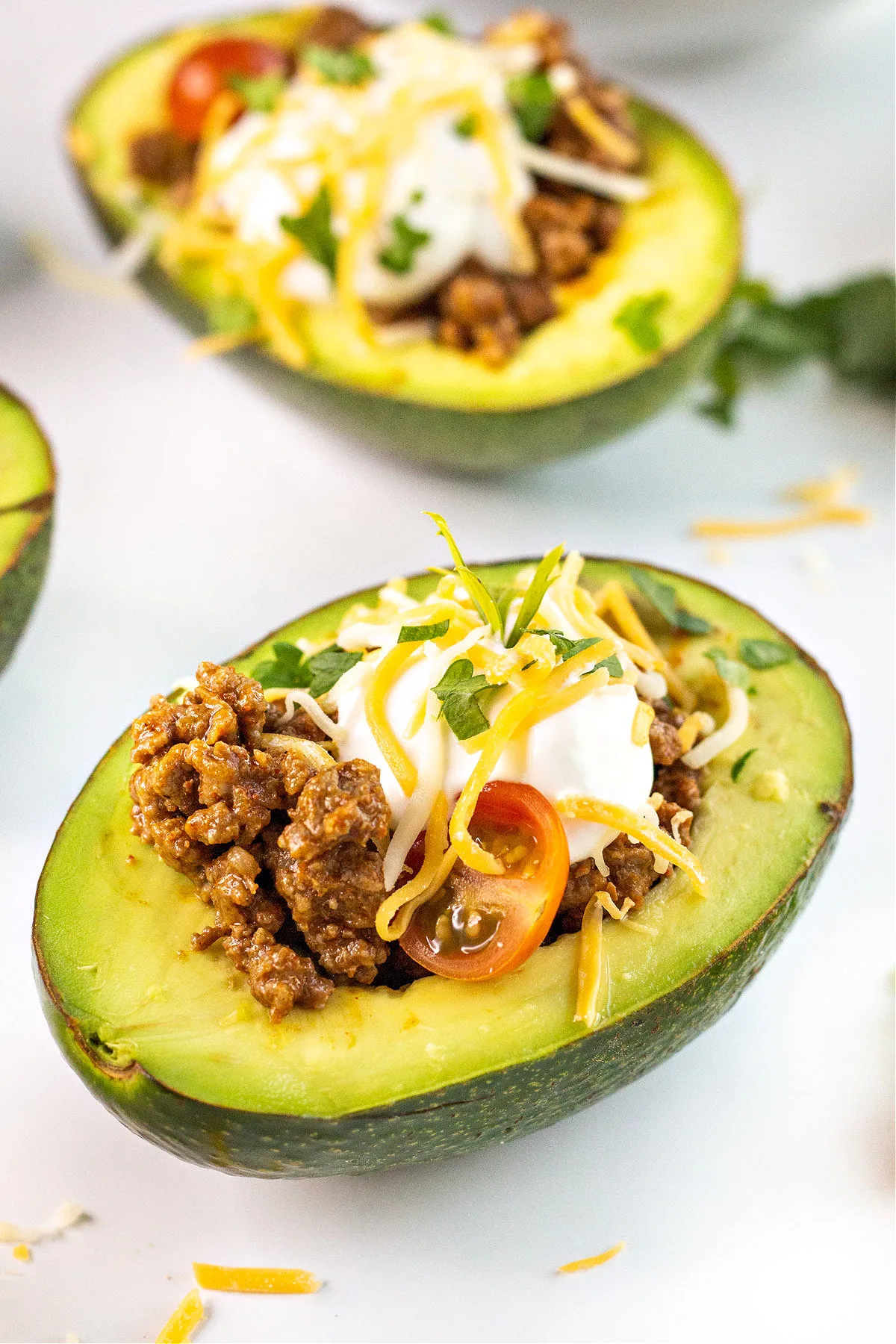 PREP TIME10 minutes
COOK TIME25 minutes
TOTAL TIME35 minutes
Ingredients
4 ripe avocados
Juice of 1 lime or lemon
1 Tablespoon extra-virgin olive oil
1 medium onion, chopped
1 pound lean ground beef
2 Tablespoons taco seasoning
2 Tablespoons water
Salt and pepper to taste
Topping options:
2/3 cups shredded Mexican cheese
1/2 cup quartered grape tomatoes
1/2 cup sour cream
Instructions
Cut the avocados in half. Remove the pit and scoop out a bit of avocado to create a larger well which will be filled with the beef mixture. Squeeze a little bit of lime or lemon juice over the open avocados to prevent browning.
In a medium pan, heat oil over medium heat and saute onion until soft (about 5 minutes). Add ground beef and fry until brown.
Add taco seasoning and water and cook over low heat for 5 minutes.
Season with salt and pepper as needed.
Remove from heat and let cool a little.
Fill the holes in each avocado with beef, then top with cheese, tomato, and a little sour cream.
Notes
Ground turkey works well as a substitute for ground beef.
Make healthy taco salads with the leftovers.
SUBSTITUTE: What else can I use instead of avocados? Bell peppers are a good substitute for avocados and the recipe will still be keto-friendly.
Nutrition Information:
YIELD:
8
SERVING SIZE:
1/2 avocado
Amount Per Serving: CALORIES: 356TOTAL FAT: 26gSATURATED FAT: 7gTRANS FAT: 0gUNSATURATED FAT: 17gCHOLESTEROL: 59mgSODIUM: 280mgCARBOHYDRATES: 12gFIBER: 7gSUGAR: 2gPROTEIN: 21g
CUISINE: Mexican / CATEGORY: Main Dishes