Blogs
Baked Crack Chicken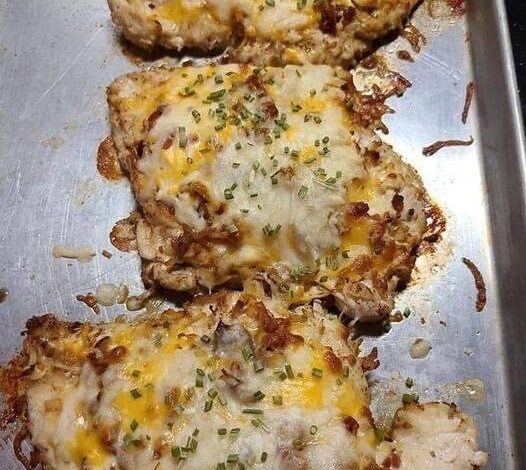 PREP TIME15minutes minutes
COOK TIME40minutes minutes
TOTAL TIME55minutes minutes
SERVINGS 4
Ingredients
4 chicken breasts, boneless and skinless (6 to 8 ounces)
1 cup onion, chopped
1 tablespoon garlic, minced
1 tablespoon ranch seasoning, from the packet of dry seasoning mix
½ teaspoon kosher salt
¼ teaspoon black pepper
6 ounces cream cheese, room temperature
½ cup cream of chicken soup
¼ cup sour cream
1 cup Monterey jack cheese, shredded
1½ cups sharp cheddar cheese, shredded (divided)
¾ cup bacon, cooked and chopped (divided)
2 tablespoons green onion, chopped (optional garnish)
Instructions
Preheat oven to 375°F. Lightly spray a 9×13 casserole dish with cooking spray.
Place your chicken breast in an even layer on the bottom of your prepared dish. Evenly sprinkle the salt and pepper on top of your chicken breast. Set aside.
In a medium skillet, saute your onion and garlic on medium heat just until it is translucent and beginning to soften. This will take 2 and 3 minutes.
Once your onions and garlic are cooked, add your cream of chicken soup, cream cheese and dry ranch seasoning mix. Stir them until the cream cheese is melted and all the ingredients are completely incorporated.
Turn off the heat to your skillet and add your sour cream and ½ cup of the shredded cheddar cheese. Stir until smooth and creamy.
Divide your cream cheese mixture evenly and top each chicken breast. Spread out the cream cheese mixture so that your chicken breasts are completely covered. Top your cream cheese-covered chicken with ½ cup of your cooked and chopped bacon pieces.
With your remaining cheddar and Monterey Jack cheese, evenly cover your chicken breast.
Cover your dish with aluminum foil and bake for 20 minutes.
Remove your aluminum foil and sprinkle the cheesy chicken breasts with the remaining ¼ cup of cooked and chopped bacon. Continue to bake for another 20 minutes, uncovered, or until your chicken is cooked through (160°F internal temperature) and your cheese is melted and bubbly.
Allow your baked crack chicken to rest for 5 minutes before serving. Garnish with copped green onions if desired
Notes
Be sure NOT to use the pre-shredded cheeses. They have additives added in the bags to prevent clumping, and they do not melt as well as a block of cheese that you shred yourself.
If your chicken pieces are not a uniform size, that is ok; just cut them into even-sized pieces. You want your chicken pieces as evenly sized as possible so that they cook evenly when baked.
At this point, you can add your chopped green onions for garnish on top of your baked crack chicken casserole if desired.
Nutrition
Calories: 951kcal | Carbohydrates: 12g | Protein: 75g | Fat: 65g | Saturated Fat: 32g | Polyunsaturated Fat: 6g | Monounsaturated Fat: 21g | Trans Fat: 1g | Cholesterol: 300mg | Sodium: 1914mg | Potassium: 1159mg | Fiber: 1g | Sugar: 4g | Vitamin A: 1476IU | Vitamin C: 7mg | Calcium: 607mg | Iron: 2mg