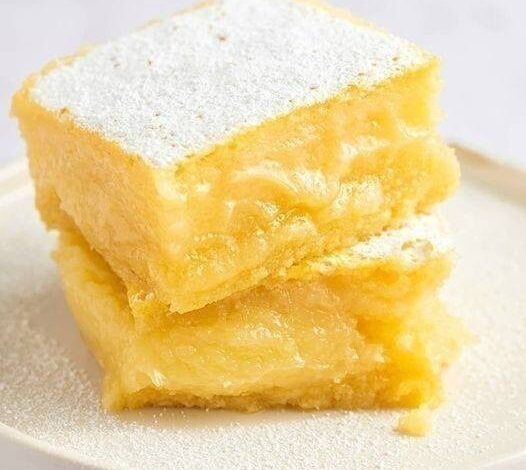 Ingredients:
For the crust:

1 ½ cups almond flour
1/3 cup powdered erythritol (or preferred keto-friendly sweetener)
1/4 cup melted unsalted butter

For the lemon filling:

4 large eggs
1 cup powdered erythritol (or preferred keto-friendly sweetener)
1/2 cup fresh lemon juice
2 tablespoons lemon zest
1/4 cup almond flour
Optional: powdered erythritol for dusting on top
Instructions:
Preheat your oven to 350°F (175°C). Grease an 8×8-inch baking dish or line it with parchment paper.
In a mixing bowl, combine the almond flour, powdered erythritol, and melted butter for the crust. Mix well until it forms a dough-like consistency.
Press the crust mixture evenly into the bottom of the prepared baking dish.
Bake the crust in the preheated oven for about 12-15 minutes, or until lightly golden. Remove from the oven and set aside to cool.
In a separate bowl, whisk together the eggs, powdered erythritol, lemon juice, lemon zest, and almond flour until well combined.
Pour the lemon filling mixture over the cooled crust, spreading it out evenly.
Bake in the oven for 20-25 minutes, or until the filling is set and no longer jiggles in the center.
Remove from the oven and let it cool completely at room temperature.
Once cooled, refrigerate for at least 2 hours before cutting into squares.
Optional: Dust the top with powdered erythritol before serving.
Nutrition Information (per serving, based on 12 servings):
Calories: 159 kcal Total Fat: 13g
Saturated Fat: 4g
Trans Fat: 0g Cholesterol: 87mg Sodium: 36mg Total Carbohydrate: 5g
Dietary Fiber: 2g
Sugars: 1g Protein: 6g
Please note that the nutrition information provided is an estimate and may vary depending on the specific ingredients and brands used. It's always a good idea to double-check the nutrition facts of individual ingredients if you have specific dietary concerns.