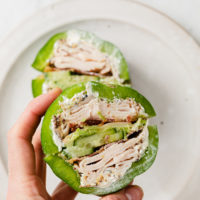 Prep Time: 10 minutesCook Time: 0 minutesTotal Time: 10 minutesYield: 1 sandwich Category: Main DishMethod: AssembleCuisine: AmericanDiet: Gluten Free
This bell pepper sandwich is perfect for a low-carb lunch! The recipe is nut-free, coconut-free, egg-free, gluten-free, grain-free, and can easily be made dairy-free. Whip one up in 10 minutes flat for a satiating and delicious meal!
Ingredients
1 small green bell pepper
1.5 oz cream cheese, softened
2 tsp stone-ground mustard
1 ½ tsp Salt-Free Everything Bagel Seasoning
4 slices deli turkey
2 slices bacon, cooked, broken in half
1 slice Provolone cheese, cut in half
2 tbsp mashed avocado
3 slices thinly-sliced cucumber
---
Instructions
Slice bell pepper in half, de-seed, then de-vein.
To both sides of pepper, spread on cream cheese and mustard before sprinkling on Everything Bagel Seasoning. Add 2 slices of deli turkey to each side of pepper, one slice of bacon to one side and one slice of bacon to the other side, Provolone to one side, mashed avocado atop Provolone, then cucumber slices atop avocado.
Assemble sandwich by placing the side with fewer ingredients atop the other side, cut in half with a serrated knife, and serve.
Recipe Notes:
Green Bell Pepper Substitution: Some people prefer to not eat green bell peppers raw. I personally LOVE them, but, if you're not a fan, try red, yellow, or orange. If you don't like raw bell peppers, you can steam the pepper in advance of making it into a sandwich or you can make it into a sandwich and then grill it or bake it. Alternatively, I make these sandwiches in cucumber boats. You could also make a lettuce wrap.
Cream Cheese Substitution: Mayonnaise would work great here. Note that if you use mayonnaise, the recipe will no longer be egg-free. You can also omit the cream cheese.
How To Make This Recipe Dairy-Free: Use mayonnaise instead of cream cheese or altogether omit the cream cheese, as well as omitting the Provolone.
Stone-Ground Mustard Substitution: Dijon mustard or yellow mustard can be used as a substitute here, although I would highly recommend sticking with the stone-ground mustard as I personally think it's one of the best parts of the sandwich.
Salt-Free Everything Bagel Seasoning Substitution: I buy mine on Amazon, but you can also find this seasoning at most grocery stores in the spice aisle. If you can't find it, you can make your own seasoning at home, or you can omit it.
Deli Turkey Substitution: Deli ham or deli chicken is a great substitute here.
Bacon Substitution: Turkey bacon would be the most logical substitution here. I would not omit the bacon, though, as I think the crunch and saltiness really bring the whole sandwich together.
Provolone Cheese Substitution: Any sliced cheese will work in place of Provolone.
Avocado Substitution: Guacamole can be used in place of mashed avocado. Just be sure to note that the sandwich may be a little saltier than the original recipe intended if the guacamole contains added salt.
Cucumber Substitution: You can omit this if you'd like, though I think the cucumber's texture and freshness are a great addition to the overall flavor of the sandwich.
Net Carbs: Per serving, the sandwich contains 7.1 grams of net carbs. A serving size is 1 sandwich. Net carbs are calculated by taking total carbs, subtracting fiber, and subtracting sugar alcohols. If you follow a ketogenic diet and want less net carbs per serving, eat an "open-faced" sandwich by eating just one side at a time (store the other side to eat later). This will yield the open-faced sandwich to be just 3.5 grams of net carbs per serving.
Refrigerator Storage: You can pre-make and assemble a sandwich to be stored and eaten later. Store the sandwich in an airtight container and eat within 2 days.
Nutrition fact
Serves 1Serving Size: 1 sandwichCalories Per Serving: 460