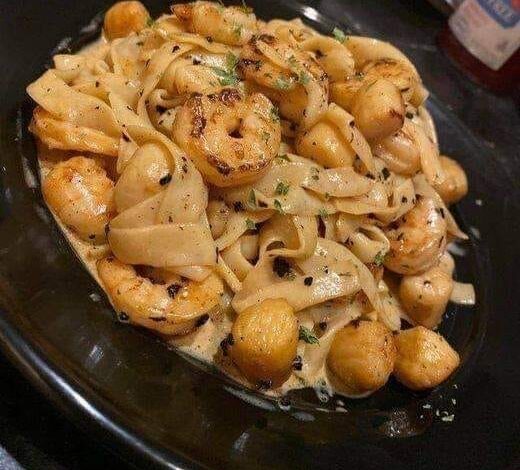 Ingredients:
1 pound of large shrimp, peeled and deveined
1 pound of sea scallops, patted dry
2 tablespoons of olive oil
1/4 cup of unsalted butter
1/2 cup of heavy cream
1/2 cup of grated parmesan cheese
4 garlic cloves, minced
1/4 teaspoon of red pepper flakes
Salt and black pepper, to taste
2 tablespoons of chopped parsley, for garnish
Instructions:
Heat the olive oil in a large skillet over medium-high heat. Add the shrimp and scallops to the skillet and cook for about 2-3 minutes on each side, until they are cooked through and slightly browned. Remove from the skillet and set aside.
In the same skillet, melt the butter over medium heat. Add the minced garlic and red pepper flakes to the skillet and cook for about 1 minute, until the garlic is fragrant.
Add the heavy cream to the skillet and bring to a simmer. Stir in the grated parmesan cheese until it is melted and well combined with the cream. Season the sauce with salt and black pepper to taste.
Add the shrimp and scallops back to the skillet and toss them with the creamy garlic sauce until they are well coated. Cook for an additional 2-3 minutes, until the seafood is heated through and the sauce has thickened.
Garnish with chopped parsley and serve hot.
Nutrition Information: Serving size: 1/4 of the recipe Calories: 485 Total Fat: 35g Saturated Fat: 18g Cholesterol: 347mg Sodium: 1135mg Total Carbohydrates: 4g Dietary Fiber: 0g Sugar: 0g Protein: 38g
Note: Nutrition information is approximate and may vary based on the specific ingredients used.