Blogs
INSTANT POT PIZZA PASTA CASSEROLE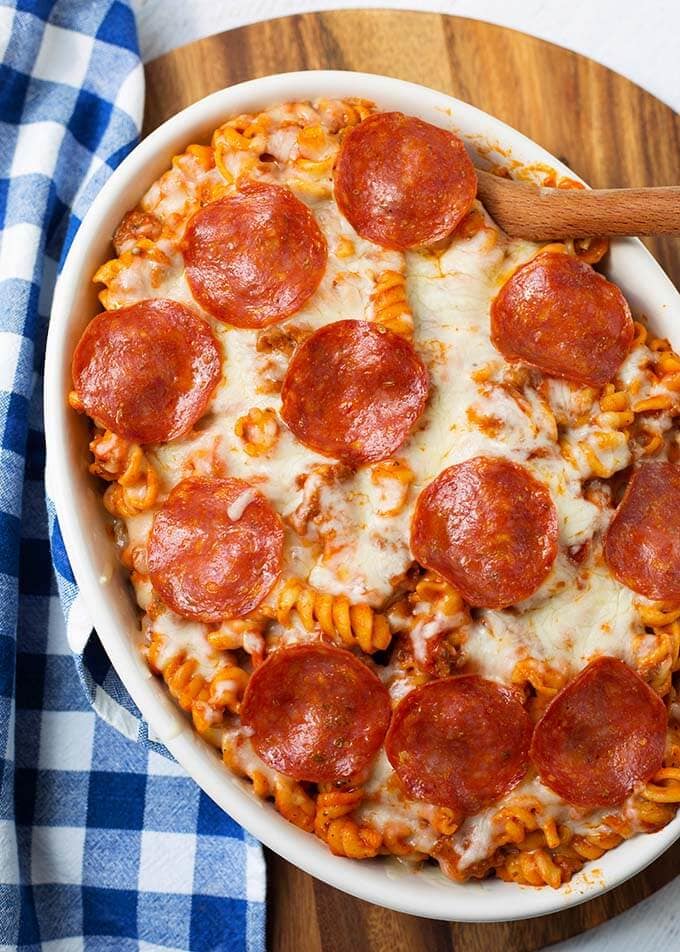 Instant Pot Pizza Pasta Casserole is a delicious, hearty one-pot meal. Make this pressure cooker pizza pasta casserole with your favorite pizza toppings, and in under an hour!Course: DinnerCuisine: AmericanKeyword: pressure cooker pizza pasta casserole recipeServings: 6 – 8Calories: 335 kcalAuthor: Sandy CliftonIngredients
1 lb Italian Sausage
1/2 Onion, diced
1 1/2 tsp Italian Seasoning
1/2 tsp Oregano
2 tsp Garlic Powder (or 2 cloves minced garlic)
1/4 – 1/2 tsp Red Pepper Flakes
1/2 tsp Kosher Salt (or 1/4 tsp table salt)
1/4 tsp Pepper
1 Red Bell Pepper (optional) or green pepper, chopped
6 oz Mushrooms (optional) sliced
4 cups Low Sodium Chicken Broth (or water)
16 oz Rotini (or penne, ziti, etc)
24 oz jar Marinara Sauce
8 oz Mozzarella Cheese, shredded (plus more for garnish, if desired)
5 oz Pepperoni Slices (about 20-30 slices)
Optional Add-Ins
1/2 cup Sliced Black Olives
1/2 cup Cooked Bacon Pieces
1/2 cup Pineapple Chunks
Canadian Bacon (instead of pepperoni)
Instructions
I used the 6 quart pot, but you can also use the 5qt or 8 qt.
Turn on pot to the Sauté setting. Add the sausage and onion. Cook until the meat is cooked through.
Add Italian seasoning, oregano, garlic powder (or garlic), red pepper flakes, salt, pepper, and bell pepper, and mushrooms, if using. Stir.
Add the broth or water and stir, scraping the bottom of the pot to deglaze (get up any browned bits).
Add the pasta evenly over the mixture. Do not stir.
Pour the marinara sauce over the pasta and cover it completely. Do not stir.
Cancel the Sauté function. Put the lid on the pot and turn the steam release knob to the Sealing position. Press the Pressure Cook (Manual) button or dial, and then the +/- button or dial to select 4 minutes (for rotini).If you use a different pasta, set the cook time to half the time the package directions say to cook for.
When the cook cycle is finished, do a Quick Release of the pressure/steam by turning the steam release knob to the Venting position.
When the pin in the lid drops down, open the lid and stir the pasta. Stir in half of the cheese and 3/4 of the pepperoni.
Stir in olives, if using, or any other add-ins you'd like.
Sprinkle the remaining cheese on top and arrange the remaining pepperoni on top of the cheese. Close the lid and let the cheese melt.
Serve from the pot or transfer to a casserole serving dish.