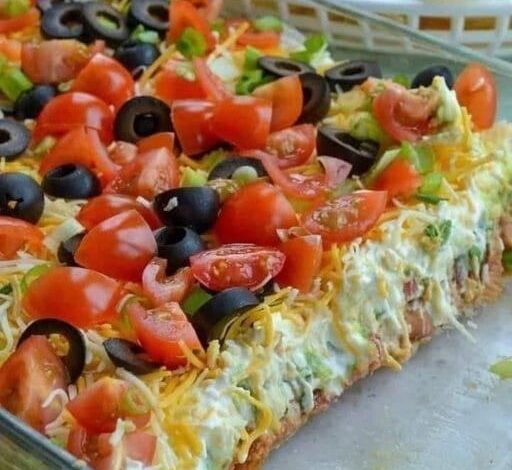 Ingredients:
1 pound ground beef (85% lean)
1 packet of taco seasoning mix (make sure it's low-carb and without added sugars)
1 cup shredded cheddar cheese
1 cup guacamole
1 cup sour cream
1/2 cup diced tomatoes
1/2 cup diced red onion
1/4 cup sliced black olives
1/4 cup chopped fresh cilantro
1 tablespoon olive oil (for cooking the beef)
Salt and pepper to taste
Instructions:
In a skillet over medium heat, add olive oil and brown the ground beef. Break it up into small pieces as it cooks.
Add the taco seasoning mix to the beef according to the packet instructions. Usually, you'll need to add water and let it simmer for a few minutes until the beef is well-coated and cooked through.
Once the beef is cooked, remove it from the heat and let it cool slightly.
In a serving dish or casserole, start layering the ingredients: a. Spread the cooked ground beef evenly as the bottom layer. b. Layer the shredded cheddar cheese on top of the beef. c. Spread the guacamole over the cheese layer. d. Add the sour cream on top of the guacamole layer, spreading it out evenly. e. Sprinkle the diced tomatoes, red onion, and sliced black olives over the sour cream layer. f. Garnish with chopped fresh cilantro on the very top.
Serve the dip with keto-friendly vegetable chips, pork rinds, or raw vegetable sticks like celery, cucumber, or bell pepper.
Nutrition Information (per serving – based on 1/8th of the entire recipe):
Please note that the nutrition values may vary depending on the brands used and any modifications you make to the recipe. These values are just an estimate:
Calories: ~280 kcal
Total Fat: ~21g
Saturated Fat: ~8g
Trans Fat: ~0g
Cholesterol: ~60mg
Sodium: ~430mg
Total Carbohydrates: ~7g

Dietary Fiber: ~3g
Sugars: ~2g

Protein: ~15g
Remember, the key to maintaining ketosis is keeping your carbohydrate intake low and your healthy fat intake high. Enjoy this delicious Keto 7 Layer Taco Dip while staying within your daily macros!