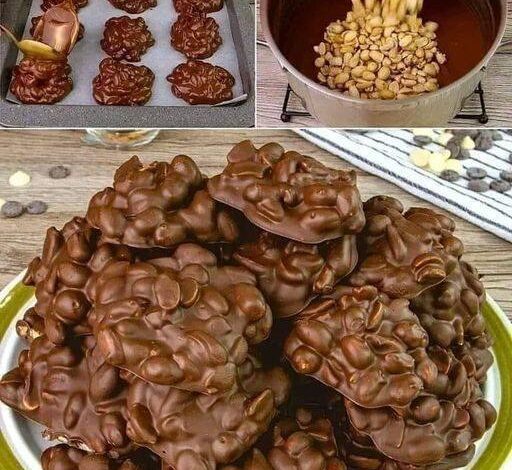 Ingredients:
1 cup unsweetened dark chocolate chips (at least 70% cocoa solids)
1/2 cup mixed nuts (almonds, pecans, walnuts), roughly chopped
2 tablespoons unsweetened shredded coconut
1 tablespoon coconut oil
1 tablespoon powdered erythritol or any keto-friendly sweetener (optional)
Pinch of sea salt (optional)
Instructions:
Line a baking sheet with parchment paper or a silicone baking mat.
In a microwave-safe bowl, melt the dark chocolate chips and coconut oil together in 30-second intervals, stirring well after each interval, until completely melted and smooth.
Stir in the powdered erythritol (if using) to sweeten the chocolate.
Add the mixed nuts and shredded coconut to the chocolate mixture, stirring until they are well coated.
Using a spoon or a cookie scoop, drop small clusters of the mixture onto the prepared baking sheet.
Sprinkle a pinch of sea salt on top of each cluster, if desired.
Place the baking sheet in the refrigerator for about 30 minutes, or until the clusters are firm and set.
Once hardened, remove the clusters from the refrigerator and store them in an airtight container.
Approximate Nutrition Information (per serving):
Serving size: 1 cluster (recipe makes about 12 clusters)
Calories: 150
Fat: 13g
Carbohydrates: 5g
Fiber: 3g
Net Carbs: 2g
Protein: 3g
Please note that the nutrition information provided is an estimate and can vary based on the specific ingredients and brands used. It's always a good idea to double-check the labels and adjust the serving size accordingly if needed. Enjoy your Keto chocolate nut clusters!