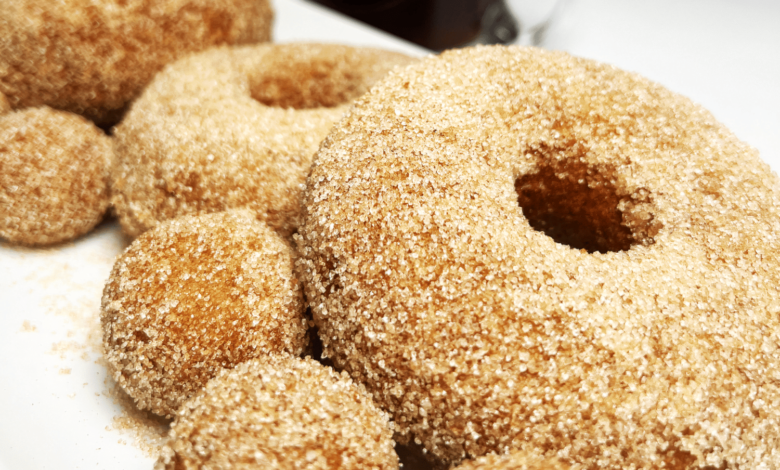 Free Keto Meal Plan : KETO DIET PLAN FOR BEGINNERS STEP BY STEP GUIDE
Ingredients

For the Doughnuts:
2 medium eggs (100g)
40g erythritol
½ tsp pure stevia powder
80g crème fraîche
2 tsp vanilla extract
30g high-oleic cold pressed sunflower oil (U.S. option HERE), or MCT oil
2 tsp ACV
30g whey protein isolate
10g psyllium husk powder
30g ultra fine almond flour
2 tsp baking powder (sifted)
½ tsp cinnamon powder
For the Cinnamon 'Sugar' coating:
15g coconut oil
20g allulose
20g erythritol
¼ tsp cinnamon
Free Keto Meal Plan : KETO DIET PLAN FOR BEGINNERS STEP BY STEP GUIDE
Instructions
pre-heat oven to 150°C fan (170°C static).
whisk eggs until pale and foamy, add sweeteners and liquid ingredients, whisking again to incorporate homogeneously.
mix dry ingredients and combine.
fill 6-holes silicone doughnut mould right up to the top.
bake for 18-20 mins until golden-brown, then open oven door fully and leave doughnuts in situ for 5 minutes.
meanwhile, mix allulose, erythritol and cinnamon in a large bowl.
take the mould out of the oven and wait until the doughnuts are completely cool.
unmould and brush with melted coconut oil before coating them in the cinnamon 'sugar'.
Notes
You can replace crème fraîche with sour cream.
If you decide to swap the high-oleic sunflower oil for coconut oil, or butter, or strong flavoured seed oils, you will not get the same spongy and well-risen doughnuts. Best alternative is MCT oil.
For the cinnamon coating, I combine two sweeteners: allulose provides the sweetness without after taste and erythritol provides the 'crystals'. This combination makes the 'cooling' effect of erythritol virtually undetectable. You can, of course, use whichever alternative suits you best.
Nutrition calculated on the basis of 6 doughnuts.
Free Keto Meal Plan : KETO DIET PLAN FOR BEGINNERS STEP BY STEP GUIDE