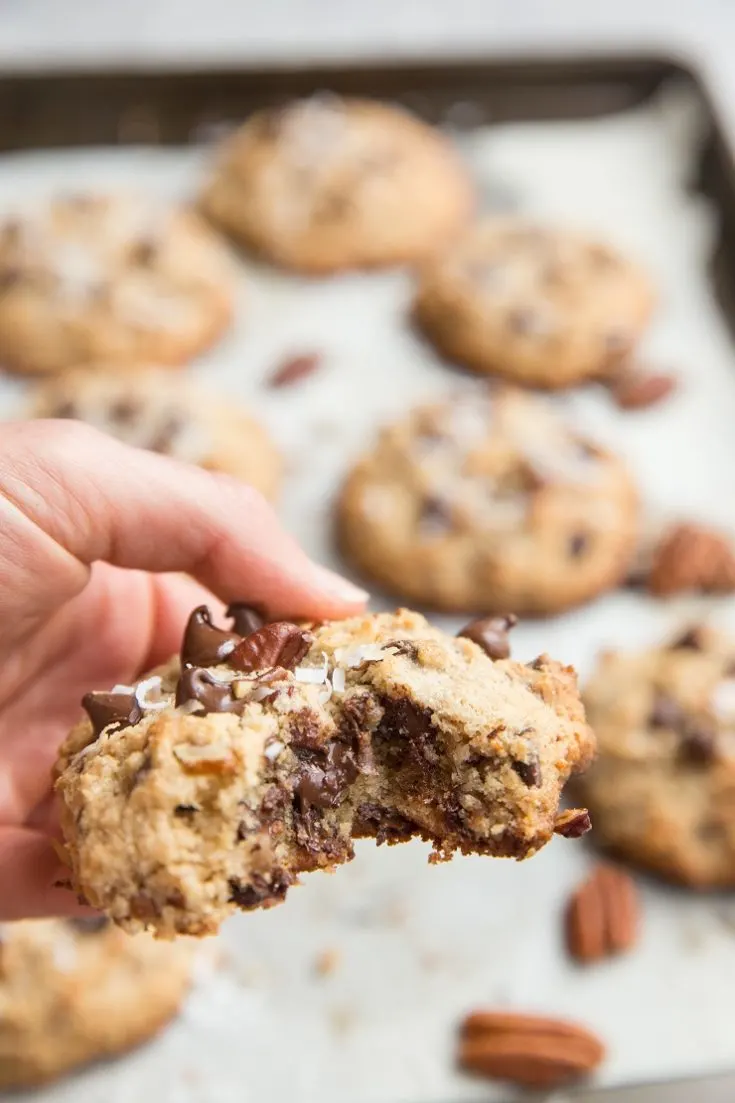 yield: 22 COOKIES
prep time: 15 MINUTES
cook time: 10 MINUTES
total time: 25 MINUTES
A keto version of Laura Bush's Cowboy Cookies, these amazing chocolate chip cookies are loaded with goodies, are sugar-free and grain-free! .
Ingredients
10 Tbsp unsalted butter, softened, not melted
½ cup sugar-free brown sugar, packed
2 large eggs
1.5 teaspoons pure vanilla extract
1 1/3 cups finely ground almond flour, packed
1/3 cup oat fiber*
2/3 cup pecans, chopped
⅔ cup unsweetened shredded coconut
1 cup sugar-free chocolate chips
1/2 tsp ground cinnamon
1 teaspoon baking powder
1/4 teaspoon sea salt
Instructions
Preheat the oven to 350 degrees F and line a baking sheet with parchment paper.
Add the butter and sugar-free brown sugar to a stand mixer (or mixing bowl if using an electric hand mixer) and beat on medium-high speed until combined and fluffy.
Use a rubber spatula to scrape the sides of the mixing bowl, then add the eggs and the vanilla extract. Beat until combined and creamy. Again, scrape the sides of the mixer with a rubber spatula.
Stir together the remaining (dry) ingredients in a bowl and pour it into the mixer. Beat on medium-high until the dough is very well combined, thick, and sticky.
Scoop the cookie dough onto the parchment-lined baking sheet, and bake for 8 to 13 minutes, depending on the size of your cookies – for regular sized cookies, go with 8 to 11, and for larger cookies, bake for 11 to 13.
Remove the cookies from the oven and allow them to cool for 10 minutes before serving.
Notes
*You can replace the oat fiber with 1/2 cup to 2/3 cup of quick oats if you don't mind adding some carb to the cookies. You can also replace it with 1/2 cup of additional almond flour if you don't mind losing the oat flavor.
Nutrition Information
Yield22Serving Size1 of 22Amount Per ServingCalories162Total Fat16gCarbohydrates2gFiber2gSugar1gProtein2g