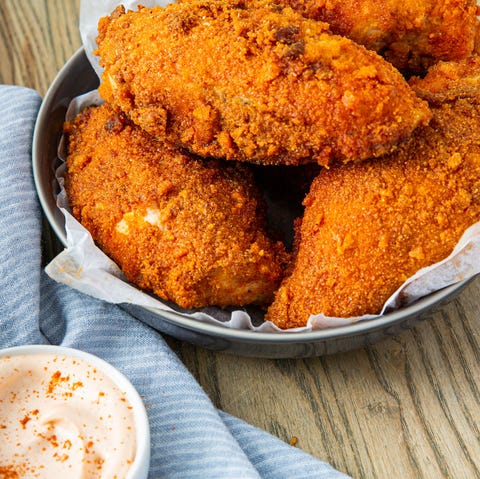 INGREDIENTSFOR THE CHICKEN6
bone-in, skin-on chicken breasts
salt
Freshly ground black pepper2
large eggs120 ml
double cream75 g
almond flour25 g
finely crushed pork scratchings 50 g
freshly grated Parmesan 1 tsp.
garlic powder1/2 tsp.
paprikaFOR THE SPICY MAYO120 g
mayonnaise1 1/2 tsp.
hot sauce
DIRECTIONS
Preheat oven to 200°C (180ºC fan) and line a large baking tray with parchment paper. Pat chicken dry with paper towels and season with salt and pepper.
In a shallow bowl whisk together eggs and double cream. In another shallow bowl, combine almond flour, pork scratchings, Parmesan, garlic powder, and paprika. Season with salt and pepper.
Working one at a time, dip chicken in egg mixture and then in almond flour mixture, pressing to coat. Place chicken on prepared baking tray.
Bake until chicken is golden and internal temperature reaches 75°C, about 45 minutes.
Meanwhile make dipping sauce: In a medium bowl, combine mayonnaise and hot sauce. Add more hot sauce depending on preferred spiciness level.
Serve chicken warm with dipping sauce.