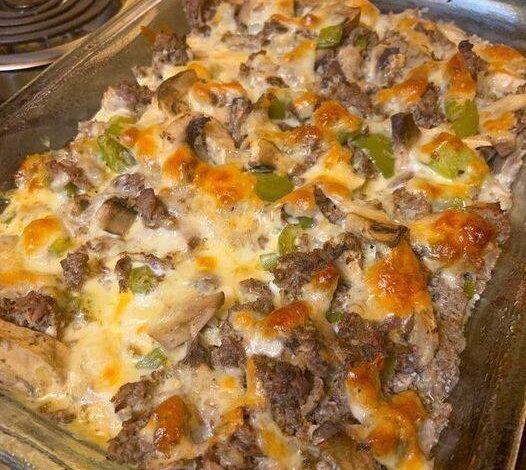 Ingredients:
1.5 pounds of thinly sliced beef (such as ribeye or sirloin)
2 tablespoons of olive oil
1 medium onion, thinly sliced
1 medium green bell pepper, thinly sliced
8 ounces of mushrooms, sliced
2 cloves of garlic, minced
1 teaspoon of salt
1/2 teaspoon of black pepper
1/2 teaspoon of dried oregano
1/2 teaspoon of dried thyme
1/2 teaspoon of paprika
4 ounces of cream cheese, softened
1/2 cup of mayonnaise
1/4 cup of heavy cream
1 cup of shredded provolone cheese
Instructions:
Preheat your oven to 375°F (190°C).
In a large skillet, heat the olive oil over medium-high heat. Add the beef slices and cook until browned. Remove the beef from the skillet and set aside.
In the same skillet, add the onion, bell pepper, mushrooms, and garlic. Cook until the vegetables are tender and slightly caramelized.
Return the beef to the skillet with the cooked vegetables. Season with salt, black pepper, dried oregano, dried thyme, and paprika. Stir well to combine.
In a separate bowl, mix the softened cream cheese, mayonnaise, and heavy cream until smooth.
Spread the cream cheese mixture evenly over the beef and vegetable mixture in the skillet. Top with shredded provolone cheese.
Transfer the skillet to the preheated oven and bake for about 20-25 minutes, or until the cheese is bubbly and golden brown.
Remove from the oven and let it cool for a few minutes before serving.
Nutrition Information (per serving):
Calories: 470 kcal
Fat: 37g
Protein: 27g
Total Carbohydrates: 6g

Fiber: 1g
Net Carbohydrates: 5g
Note: The nutrition information provided is an estimate and may vary based on the specific ingredients used and serving size.