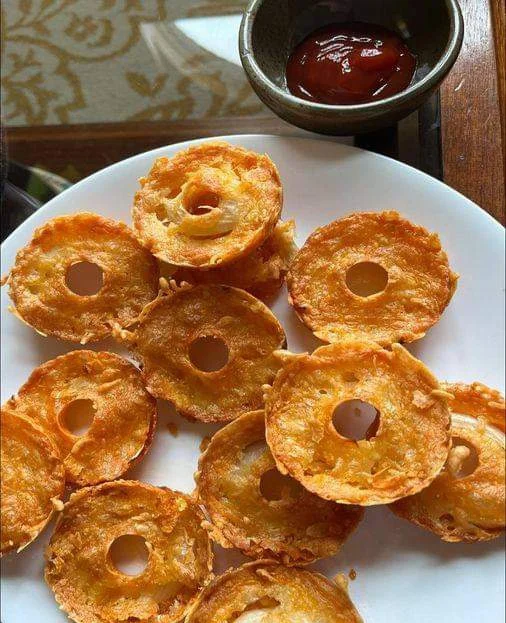 Keto Onion rings with cheese
I don't remember where I saw this last week, but I made onion rings today with just shredded cheese, onions and a donut pan.
They were really good! I used fiesta blend shredded cheese (you could use any kind) and put some at the bottom of each opening. I added onions and put more cheese on top.
I sprinkled a few with Lawry's seasoned salt and ended up liking those best. I put them in the convection oven for about 15 minutes.
This is approximate because I just kept checking them to see if they looked done.
I let them set for five minutes, popped them out of the pan, and immediately ate half of the batch.
So good!!! I got the donut pan off of Amazon at the end of last week.
INGREDIENTS:
3 cups of Shredded Cheese – Reduced Fat Cheddar and Mozzarella – you can swap for your favorite shredded cheese.
2 Medium sized onions sliced into ½ inch thick rings
Flavor God Seasoning – Pizza Flavor, Buffalo and Everything Seasoning.
INSTRUCTIONS:
Prep – Peel your onion and cut into ½ inch slices and separate into rings.
Assemble – Spritz your donut pan with olive oil spray to prevent sticking. Now sprinkle a layer of shredded cheeses into your donut ring.
Assemble – Now add a raw onion ring on top of your shredded cheese.
Assemble – Now sprinkle your shredded cheese on top of your onion ring covering it completely.
Bake – Once all your donut slots are filled with the ingredients sprinkle with your favorite seasoning ( I like Flavor God Seasonings) and place them in the oven for 10-15 minutes at 400 Degrees F.
Remove – Remove from oven, let cool and eat!
Enjoy