Blogs
KETO PEANUT BUTTER PIE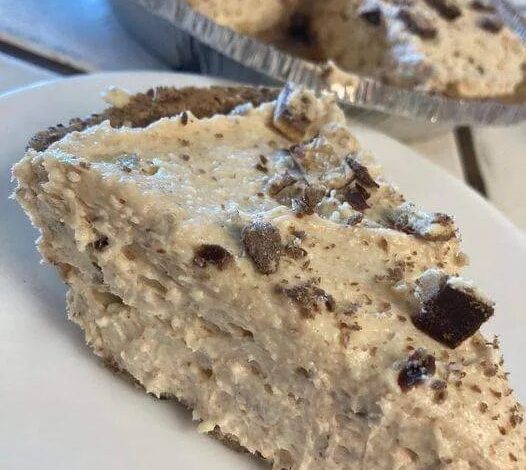 KETO PEANUT BUTTER PIE
An easy low-carb peanut butter pie cream cheese recipe with no-bake chocolate crust and fluffy peanut butter filling.
Prep Time15minutes mins
Rest time1hour hr
Total Time1hour hr 15minutes mins
INGREDIENTS
KETO COOKIE CRUST
▢1 3/4 cup Almond Flour
▢5 tablespoons Unsweetened Cocoa Powder scoop and level method
▢1 teaspoon Vanilla Extract
▢1/3 cup Crystal Sweetener
▢1/4 cup Coconut Oil
▢3 tablespoons Water
KETO PEANUT BUTTER FILLING
▢8 ounces Cream Cheese lactose-free cream cheese or vegan cream cheese work as well
▢3/4 cup Natural Peanut Butter natural, no added sugar or oil
▢1 teaspoon Vanilla Extract
▢1/3 cup Sugar-free Powdered Sweetener
▢3/4 cup Heavy Cream
INSTRUCTIONS
Free Keto Meal Plan : KETO DIET PLAN FOR BEGINNERS STEP BY STEP GUIDE
Grease a 9-inch round pie pan with butter or coconut oil. Set aside.
In a large mixing bowl, combine all the dry ingredients: almond flour, unsweetened cocoa powder, and erythritol.
Stir in melted coconut oil, water and vanilla, and combine until it is soft and sticks easily together. It shouldn't be overly wet but sticky. If too wet, add more almond flour. If too dry, add 1 tablespoon more water.
Press the dough with your fingers to evenly cover the bottom and sides of the pan. You can use the back of a spoon to smoothen the surface perfectly.
Place in the fridge while making the filling. This step will also harden the no-bake crust.
KETO PEANUT BUTTER FILLING
In a large mixing bowl, using an electric beater, beat soft cream cheese with peanut butter, vanilla extract, powdered sweetener, and heavy cream until thick and slightly fluffy.
Stop the beater and remove the pie crust from the fridge.
Spread the fluffy peanut butter filling into the pie pan.
Chill 1-2 hours or overnight, covered with a piece of plastic wrap to prevent the top from drying out.
STORAGE
Store in a sealed cake box in the fridge for 4 days or freeze the whole pie or pie slices in sealed containers. Thaw in the fridge the day before serving.
NUTRITION
Nutrition Facts
Keto Peanut Butter Pie
Amount Per Serving (1 slice (without toppings))
Calories 348.9Calories from Fat 297
% Daily Value*
Fat 33g51%
Saturated Fat 13.4g84%
Cholesterol 41.2mg14%
Sodium 141mg6%
Potassium 173.6mg5%
Carbohydrates 9.1g3%
Fiber 3.4g14%
Sugar 2.8g3%
Protein 9.3g19%
Net Carbs 5.7g
Vitamin A 472.5IU9%
Vitamin C 0.1mg0%
Calcium 72.1mg7%
Iron 1.3mg7%
Free Keto Meal Plan : KETO DIET PLAN FOR BEGINNERS STEP BY STEP GUIDE