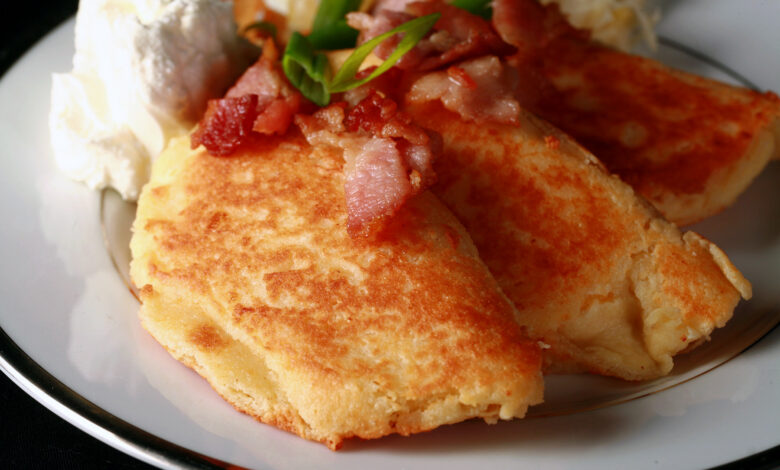 Ingredients:

Dough:
4 cups super fine blanched almond flour
4 cups shredded full fat mozzarella cheese
1/2 cup butter
2 large egg
2 large egg yolk
To cook and serve:
1 cup thinly sliced yellow onions
6 tbsp butter
salt and pepper to taste
Free Keto Meal Plan : KETO DIET PLAN FOR BEGINNERS STEP BY STEP GUIDE

Instructions

The Keto Dough:
Combine the mozzarella cheese and butter in a medium bowl and microwave for 1 minute.
Stir, then microwave another minute.
Stir until fully combined and cool for 2 minutes.
Stir in the egg and egg yolk until combined.
Add the almond flour and stir with a large spoon until combined.
Turn out dough onto smooth surface (or parchment paper) and knead until a semi-stretchy dough is formed. (if the dough is too wet, add a tablespoon or more of almond flour until workable)
Cheesy Cauliflower inside:
2 head of cauliflower
4 tbsp heavy cream
2 tbsp butter
4 ounces sharp cheddar cheese
salt and pepper to taste
1 tsp onion powder
Clean and trim the cauliflower, breaking it into medium sized pieces.
Place in a microwave safe bowl with 2 Tbsp of cream and 1 Tbsp of butter.
Microwave, uncovered, on high for six minutes.
Stir to coat cauliflower with cream/butter mixture. Microwave for another six minutes on high.
Remove from the microwave and put into a high speed blender or food processor along with the cheese. Puree until smooth.
Season with salt, pepper, and onion powder to taste. You can adjust the cream and butter to your preference.
To make the Keto Pierogies:
Divide the dough into 11 equally sized balls.
Press each ball into a disk about 4 inches around.
Combine the Cheesy Cauliflower blend and dried onion flakes and mix well.
Place about 1.5 tablespoons of room temperature Cheesy Cauliflower blend onto one half of each disk, leaving a half inch border to seal.
Fold the dough over the filling and pinch to seal.
Chill 10 minutes (I chilled them over night) or freeze until ready to use (if cooking from frozen, thaw first)
To cook and serve the Keto Pierogi:
Melt the butter in a large saute pan over medium heat.
Add the onions and cook for 5 minutes or until soft and translucent.
Add 6 of the pierogies to the pan and cook for 3 minutes per side or until the dough has turned golden brown. Remove and set aside.
Cook the remaining 6 pierogies the same way.
Serve warm with the onions and butter over the top.
This recipe was adapted from I Breathe I'm Hungry and they are amazing!! I am excited to add many other fillings.
Free Keto Meal Plan : KETO DIET PLAN FOR BEGINNERS STEP BY STEP GUIDE