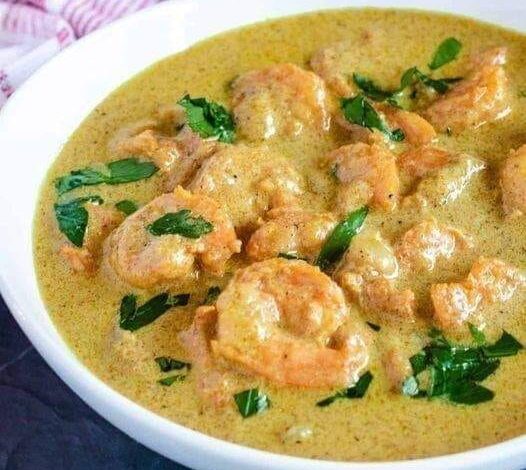 Ingredients:
1 lb raw shrimp, peeled and deveined
1 tablespoon coconut oil
1 tablespoon minced ginger
1 tablespoon minced garlic
1/2 cup diced onion
1/2 cup diced red bell pepper
1 tablespoon yellow curry powder
1/2 teaspoon ground cumin
1/4 teaspoon ground coriander
1/4 teaspoon turmeric powder
1/4 teaspoon cayenne pepper (optional)
1 can (14 oz) full-fat coconut milk
1/2 cup chicken or vegetable broth
Salt and pepper to taste
Fresh cilantro leaves for garnish
Instructions:
In a large skillet, heat coconut oil over medium heat. Add ginger, garlic, onion, and red bell pepper. Cook for 5 minutes or until onion is translucent.
Add curry powder, cumin, coriander, turmeric, and cayenne pepper (if using) to the skillet. Cook for 1-2 minutes or until fragrant.
Pour coconut milk and broth into the skillet. Season with salt and pepper to taste. Stir to combine.
Bring the mixture to a simmer and add the shrimp. Cook for 5-7 minutes or until shrimp is pink and cooked through.
Serve the curry hot, garnished with fresh cilantro leaves.
Nutrition information:
Servings: 4
Calories: 330 kcal
Fat: 24 g
Protein: 23 g
Carbohydrates: 8 g
Fiber: 2 g
Net carbs: 6 g
Note: Nutrition information may vary depending on the specific ingredients and brands used in the recipe.