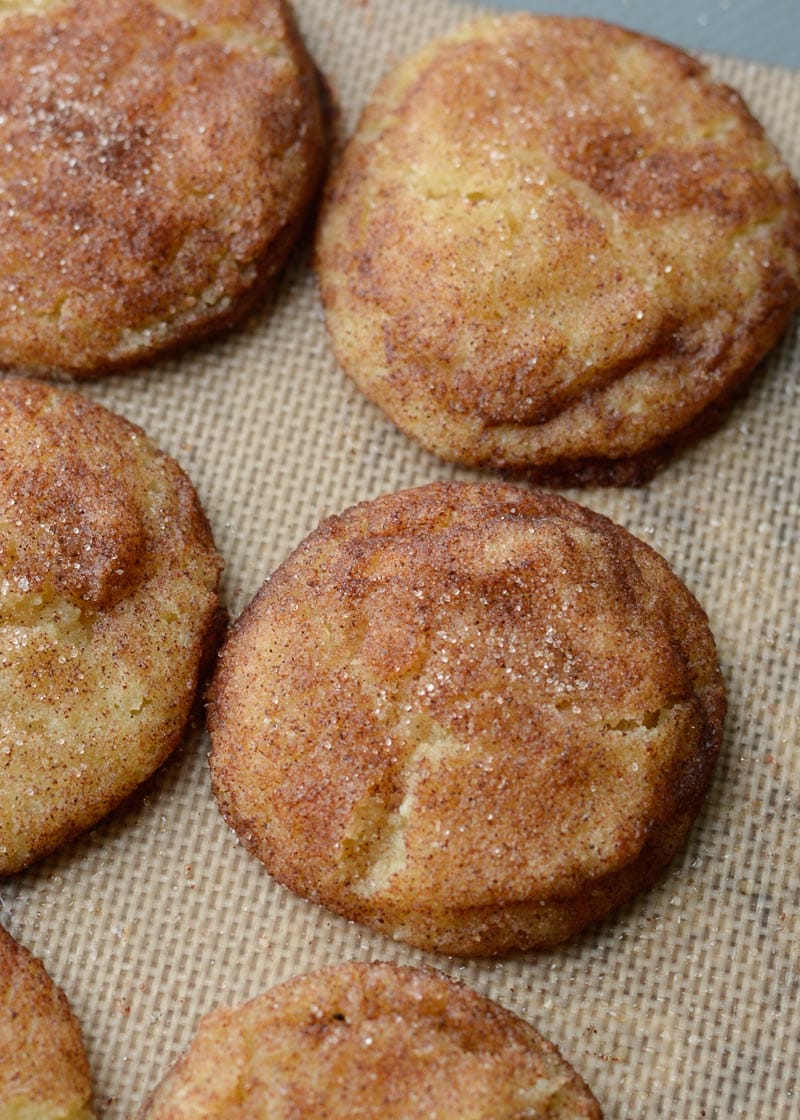 yield: 24 cook time: 9 MINUTES total time: 9 MINUTES4.5 Stars (21 Reviews)PRINT
Ingredients
For the Cookie Base
2 cups almond flour
1/4 cup coconut flour
1/2 tsp baking powder
1/2 tsp baking soda
1/2 tsp salt
1/2 cup unsalted butter, softened
1 cup granulated monkfruit sweetener
1 large egg
1/2 cup sour cream
1 tsp vanilla extract
For the Cinnamon Sugar Coating
1/4 cup granular monkfruit sweetener
1 tablespoon ground cinnamon
Instructions
Combine the almond flour, coconut flour, baking powder, baking soda and salt in a mixing bowl and set aside.
Using an electric mixer, cream the butter and monkfruit sweetener until well blended. Add the egg, sour cream and vanilla extract.
While the mixer is on low, add the flour mixture until well combined.
Wrap the dough ball in plastic wrap and chill overnight.
In a small bowl combine the cinnamon and monkfruit for the cinnamon sugar coating. Scoop the dough using a small cookie scoop and roll the dough in your hands so it is smooth. Roll the cookie dough ball in the cinnamon sugar coating, make sure it is very well coated.
Bake on a silicone lined baking sheet at 350 degrees F for 9-11 minutes, remove the cookies from the oven while they are still slightly soft in the center, they will finish cooking as they cool. 
Allow the cookies to cool on the baking sheet for 10 minutes, then transfer to a wire baking rack to cool completely. 
Nutrition Information:
YIELD: 24 SERVING SIZE: Nutrition Calculated Per Cookie
Amount Per Serving: CALORIES: 105TOTAL FAT: 9,5gCHOLESTEROL: 19.6mgSODIUM: 82.6mgCARBOHYDRATES: 2.8gNET CARBOHYDRATES: 1.5gFIBER: 1.3gSUGAR: 0.3gPROTEIN: 2.9g