Blogs
Keto Strawberry Cream Cheese Cobbler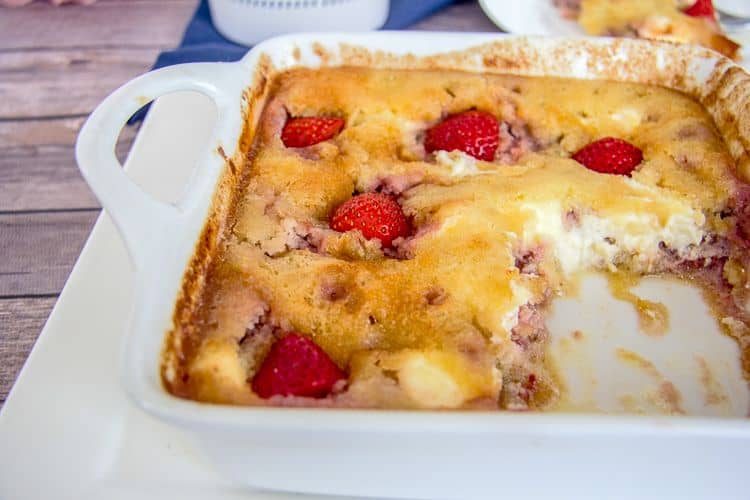 Free Keto Meal Plan : KETO DIET PLAN FOR BEGINNERS STEP BY STEP GUIDE
PREP TIME 15 mins
COOK TIME 50 mins
TOTAL TIME 1 hr 5 mins
COURSE Dessert
CUISINE American
SERVINGS 6 servings
CALORIES 264 kcal
INGREDIENTS
½ cup almond flour
½ cup butter, unsalted softened
½ cup erythritol low carb sweetener
2 eggs medium
1 teaspoon vanilla extract
½ teaspoon baking powder
¼ teaspoon salt
4 oz cream cheese cut into small pieces
8 strawberries cut into halves
INSTRUCTIONS
Preheat the oven to 190C/380F
In a bowl mix the butter and erythritol together until smooth
Beat in the eggs and vanilla extract
Add the almond flour, salt and baking powder until you have a smooth batter.
Pour the batter into a baking dish.
Place the strawberries on top of the batter.
Scatter the cream cheese pieces over the top.
Cover the baking dish with foil and bake for 45-50 minutes until firm and golden. Remove the foil after 25 minutes of baking. ( The crust rises up and around the fruit, but fruit may peek out of top).
Eat and enjoy!
NUTRITION
Serving: 1servingCalories: 264kcalCarbohydrates: 3.6gProtein: 5.3gFat: 26gFiber: 1.3g
Free Keto Meal Plan : KETO DIET PLAN FOR BEGINNERS STEP BY STEP GUIDE