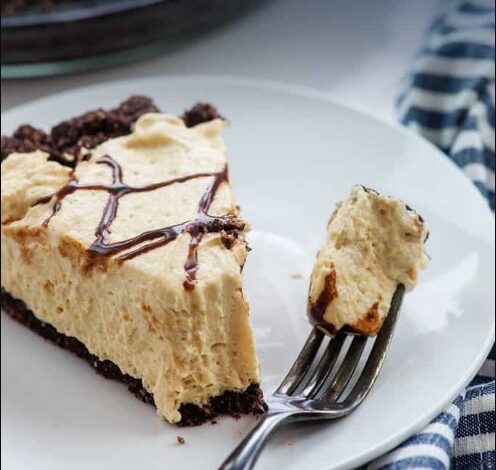 homemade Keto Peanut Butter Pie from scratch with just a few low carb ingredients. It's a crazy creamy no-bake keto pie that everyone loves. This dreamy low carb pie has a chocolatey Oreo like crust and a luscious sugar-free peanut butter filling.
INGREDIENTS
For the chocolate crust:
1/3 cup coconut oil melted
1 3/4 cups almond flour superfine
4 tbsp cocoa powder
1/3 cup powdered sweetener
For the filling:
8 oz cream cheese cheese room temperature
3/4 cup creamy peanut butter room temperature
1/2 cup powdered sweetener
2 cups heavy whipping cream room temperature
1/2 tsp vanilla extract
1/4 tsp xanthan gum
For the chocolate topping:
2 oz dark chocolate
1/2 tbsp coconut oil
1/4 cup chopped salted peanuts
INSTRUCTIONS
For the keto chocolate pie crust:
In a large bowl, combine all the crust ingredients until well mixed, and the dough looks crumbly.
Firmly press the crust crumbs into the bottom and up the sides of a 9-inch pie plate. Use the bottom of a measuring cup or glass.
Place in the refrigerator.
To make the filling:
Meanwhile, in a large bowl, add all the ingredients for the filling and, using an electric mixer, whip until smooth and creamy. It's essential to use room-temperature ingredients.
Transfer the peanut butter filling into the crust and smooth the top.
Refrigerate for 2-3 hours or freeze for 30 minutes.
To make the topping:
Melt the chocolate and coconut oil in a small mixing blow. Mix to combine.
Draw lines of chocolate all over the pie. You can also drizzle some melted peanut butter. Decorate with peanuts and enjoy!
Slice the pie immediately and enjoy a soft pie, or freeze for 2 hours to enjoy a frozen no-bake peanut butter pie recipe.