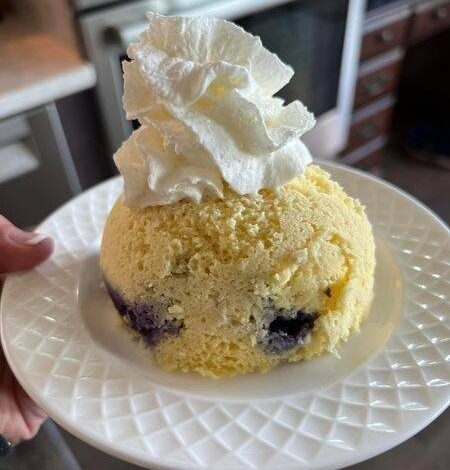 This Keto Blueberry Mug Cake is a delicious keto dessert or breakfast that you can make in just 1 minute in the microwave, with just a few low-carb ingredients.
Free Keto Meal Plan : KETO DIET PLAN FOR BEGINNERS STEP BY STEP GUIDE
Ingredients
3 tablespoons almond flour
1/2 teaspoon baking powder
1/2 tablespoon allulose or other sugar substitute
1 tablespoon butter melted
1 egg
1/4 teaspoon vanilla extract optional
15 blueberries
For the frosting
1 teaspoon butter melted
2 teaspoons heavy cream
2 teaspoons powdered allulose or powdered erythritol
Cook Mode
Prevent your screen from going dark
Free Keto Meal Plan : KETO DIET PLAN FOR BEGINNERS STEP BY STEP GUIDE
Instructions
Spray or rub the inside of a microwave-safe mug with cooking oil or butter.
Mix the almond flour, baking powder, and allulose in a small bowl. Stir in the butter, egg and vanilla extract until smooth. Add the blueberries and stir gently to incorporate.
Pour the batter into the mug.
Cook in the microwave on high for 60 seconds.
If serving with the frosting, mix the butter, cream and powdered allulose until smooth. If too thick to drizzle, add extra cream. Drizzle over the mug cake. Serve.
Notes
If you wish to use coconut flour instead of almond, use just 1 tbsp.Other types of sugar substitute can be used, like Swerve or erythritol. Remember that erythritol is 70% less sweet than allulose.Some microwaves are more or less powerful. I cook mine for 60 seconds on full power in an 800-watt microwave. You may need to adjust the cooking type based on the wattage of your microwave. The top should be spongy and not wet.
Free Keto Meal Plan : KETO DIET PLAN FOR BEGINNERS STEP BY STEP GUIDE
Nutrition
Calories: 369kcal | Carbohydrates: 9g | Protein: 10g | Fat: 34g | Saturated Fat: 14g | Cholesterol: 219mg | Sodium: 447mg | Potassium: 61mg | Fiber: 3g | Sugar: 3g | Vitamin A: 864IU | Vitamin C: 2mg | Calcium: 204mg | Iron: 2mg