Blogs
Vegan Eggplant Lasagna
Vegan eggplant lasagna, made with eggplant slices, marinara sauce, vegan tofu ricotta and vegan parmesan cheese. It's a delicious gluten-free entrée!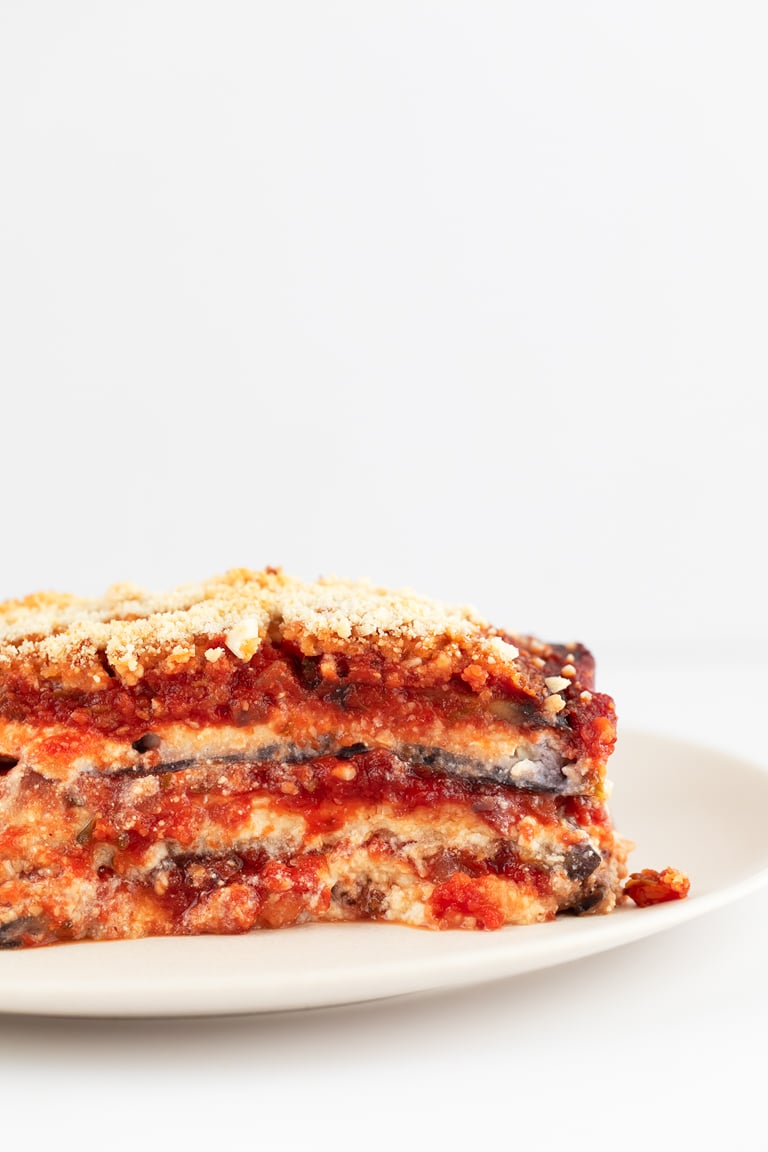 Ingredients
1 large eggplant (sliced into 1/4-inch or 5 mm slices lengthwise)
1 batch of marinara sauce
1 batch of vegan tofu ricotta
1/2 batch of vegan parmesan cheese
Instructions
Add salt to the eggplant slices on both sides and place them in a colander in the sink to remove excess water and bitterness for about 15 minutes. This step is optional, but if you omit it, your lasagna probably will have too much liquid.
Rinse and dry salted eggplant slices well. Then grill them (or cook them in a skillet) until golden brown (no oil needed).
Preheat the oven to 400ºF or 200ºC.
I used a 9 1/4″ x 6″ x 2″ or 23 x 15 x 5 cm baking dish, but you can use any other rectangular or square dish you want.
Spread a thin layer of marinara sauce on the bottom of a baking or casserole dish. Top with a layer of eggplant slices (see photo).
Spoon 1/3 of the vegan tofu ricotta over the eggplant slices and spread into an even layer. Then top with some vegan parmesan cheese (about 2 tbsp), some marinara sauce and another layer of eggplant slices. Repeat this step twice (our lasagna had 4 layers of eggplant slices).
Finally, add some marinara sauce and parmesan cheese on top.
Bake the eggplant lasagna for about 40 minutes or until golden brown.
Remove from the oven and let rest for at least 10 minutes before cutting and serving. Serve and enjoy.
Keep leftovers covered in the fridge for about 3 to 4 days.
Notes
If you want to reduce the amount of sodium in this recipe, add less salt to the marinara sauce and tofu ricotta, or add less parmesan cheese.
Eggplant can be replaced by zucchini or lasagna noodles (cook them according to package directions).
Use store-bought marinara sauce and any store-bought cheese if you want to save some time.
Feel free to use our vegan bolognese sauce or our lentil bolognese instead of the marinara sauce (you can omit the tofu ricotta as well if you want).
Nutrition
Serving Size: 1/4 of the recipe
Calories: 272
Sugar: 6.9 g
Sodium: 1455 mg (see notes)
Fat: 12 g
Saturated Fat: 2 g
Carbohydrates: 33.3 g
Fiber: 10.5 g
Protein: 14.5 g