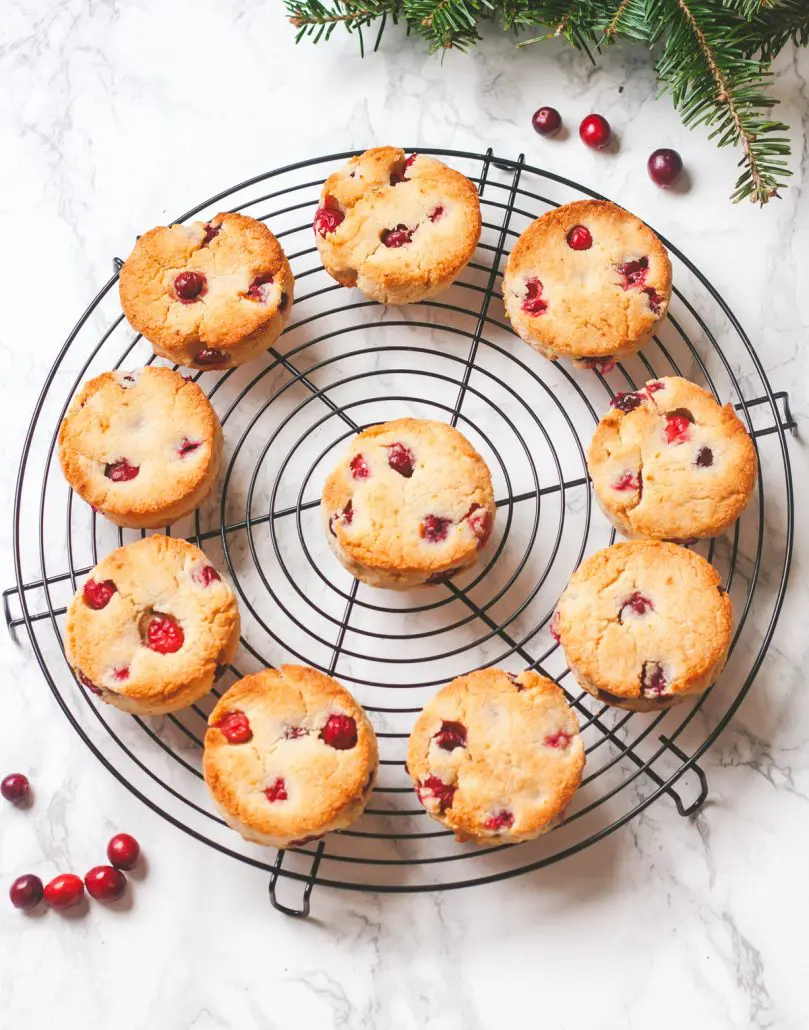 Orange and cranberries are sweet and tangy and pair perfectly together in these Keto Cranberry Orange Scones.
Total Time: 45 minutes Yield: 10 scones
Free Keto Meal Plan : KETO DIET PLAN FOR BEGINNERS STEP BY STEP GUIDE
INGREDIENTS
2 1/2 cups blanched fine almond flour
1 tablespoon baking powder
1/3 cup monk fruit granulated sweetener
1 tablespoon orange peel, grated
1/4 teaspoon salt
1/2 cup butter, chopped
2 tablespoons cream or almond milk
1 teaspoon vanilla extract
1 egg, beaten
1 cup fresh cranberries
INSTRUCTIONS
Preheat oven to 350 F. Line a baking sheet with parchment paper
In a large bowl, combine flour, baking powder, sweetener, orange peel, and salt. Stir to combine
Rub butter into the flour mixture with fingertips until it resembles coarse breadcrumbs.
Add cream or almond milk, vanilla, and egg and stir with a spoon. Gently stir in cranberries
Form a ball with the dough and chill in refrigerator for about 10 minutes.
Sprinkle a little baking flour onto a board and flatten dough into a large circle. Roll out with a rolling pin until dough is about 1 ½" in height. Cut out scones with a round cutter (about 2 ½" circle).*
Place scones onto the lined baking sheet, leaving enough space to rise.
Bake for 18-22 minutes until golden brown.
Remove from oven and cool on a wire rack.
NOTES
If you don't wish to use a scone cutter, you can just form the dough into a large circle on a cutting board and form it into a large circle, keeping it about inch in height, and slice into 6 triangular scones.
Prep Time: 25 minutes (includes 10 mins chilling in fridge)
Cook Time: 20 minutes
Category: Dessert
Method: Oven
Free Keto Meal Plan : KETO DIET PLAN FOR BEGINNERS STEP BY STEP GUIDE