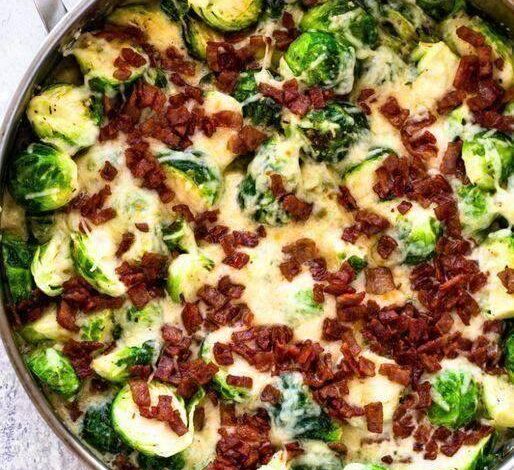 Ingredients:
1 pound Brussels sprouts, trimmed and halved
4 slices bacon, cooked and crumbled
2 tablespoons butter
3 cloves garlic, minced
1/2 cup heavy cream
1/2 cup grated Parmesan cheese
Salt and pepper to taste
Instructions:
Preheat the oven to 400°F (200°C).
Place the Brussels sprouts on a baking sheet and drizzle with olive oil. Season with salt and pepper, then toss to coat.
Roast the Brussels sprouts in the preheated oven for 20-25 minutes or until they are tender and lightly browned.
In a large skillet, melt the butter over medium heat. Add the minced garlic and cook for 1-2 minutes until fragrant.
Add the heavy cream to the skillet and bring it to a simmer. Cook for 3-4 minutes, stirring occasionally, until the cream has thickened slightly.
Stir in the grated Parmesan cheese and cook for an additional 2-3 minutes until the cheese has melted and the sauce is smooth.
Add the roasted Brussels sprouts to the skillet and toss to coat them in the creamy sauce.
Remove the skillet from the heat and sprinkle the crumbled bacon over the Brussels sprouts.
Serve the Creamy Garlic Parmesan Brussels Sprouts with Bacon warm and enjoy!
Nutritional information per serving (assuming 4 servings):
Calories: 323 kcal
Protein: 14g
Fat: 24g
Carbohydrates: 14g
Fiber: 4g
Sugar: 3g
Please note that these nutritional values are estimates and may vary depending on the specific ingredients and quantities used.