Keto Diet
Easy Keto Chicken Cordon Bleu Casserole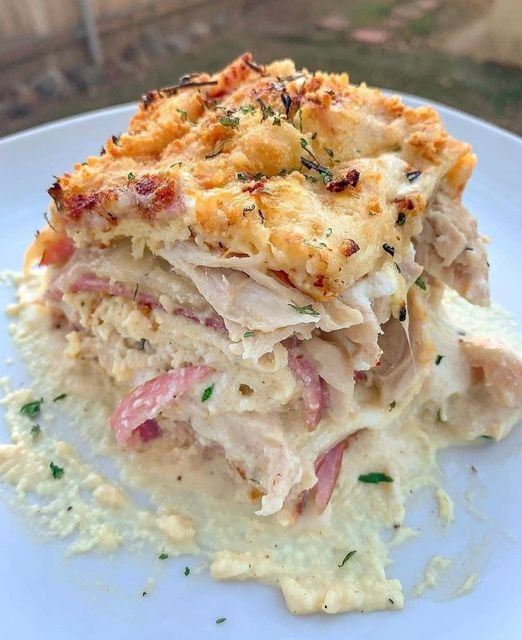 This Keto Chicken Cordon Bleu is a tasty twist on your traditional breaded chicken cordon bleu. It's a deliciously creamy comfort food casserole that is perfect for an easy keto dinner!
This keto Chicken Cordon Bleu Casserole is a delicious low-carb recipe that is filled with all the traditional flavors you and your entire family will love! It's made with chicken breast, ham, Dijon mustard, cream cheese and of course that delicious Swiss cheese.
This delicious recipe is perfect for those following a low-carb diet or keto diet. It has 1g of total carbs per serving. It's pure comfort food in casserole form!
With simple ingredients this is an easy yet delicious meal to make for the family! Plus, with this recipe you will not have to worry about stuffing the chicken like you would in traditional Chicken Cordon Bleu.
All of the tasty ingredients come together perfectly to leave you with a creamy, cheesy dish that is packed with flavor! It's so good you'll be wanting to eat it straight from the casserole dish!
Ingredients for Low Carb Chicken Cordon Bleu Casserole
Boneless skinless chicken breast
Ham
Cream cheese
Butter
White wine
Dijon mustard
Lemon juice
Salt
Black pepper
Swiss cheese
Pro Tip:
Use rotisserie chicken, leftover chicken or make Instant Pot shredded chicken breast to save prep time! If you make extra shredded chicken, try this Creamy Salsa Chicken Recipe.
If you like your chicken cordon bleu extra cheesy, try topping it with shredded parmesan cheese.
Easy Keto Chicken Cordon Bleu Casserole
Prep Time:10 mins
Cook Time:32 mins
Total Time:42 mins
This easy Keto Chicken Cordon Bleu Casserole is a tasty twist on your traditional Cordon Bleu. It is a creamy dish that is perfect for any family get together and is sure to be a family favorite!
Servings: 8
Calories: 280 kcal
Ingredients
3 cups chicken cooked and shredded
8 oz ham chopped
4 oz cream cheese softened
3 oz butter melted
1 Tbsp white wine optional
1/2 Tbsp dijon mustard
1 Tsp lemon juice
1/4 Tsp salt
1/4 Tsp black pepper
3 oz Swiss cheese shredded
Fresh Parsley
Instructions
Preheat the oven to 350 degrees F. Put the chicken in the bottom of a 9 x 13 baking dish.
Layer the pieces of ham on top.
In a large bowl with an electric mixer combine the cream cheese, butter, white wine, mustard, lemon juice, salt, and pepper.
Blend until a thick sauce forms.
Spread this sauce over the chicken and ham in the baking dish.
Sprinkle swiss cheese on top of the sauce. Bake for 25-30 minutes until hot and cheese is melted.
Broil for 1-2 minutes if desired for bubbly cheese.
Garnish with parsley if desired.
Recipe Notes
You can replace the white wine with chicken broth or water to make it alcohol free.
If you're not a fan of Swiss cheese try substituting with with gruyere.
Before broiling you can also top with crushed pork rinds for a little extra texture
Don't forget to try Chicken cheese broccoli casserole http://ketobeginners.co/keto-chicken-broccoli-casserole-recipe-with-cheese-tasty-filling-1001/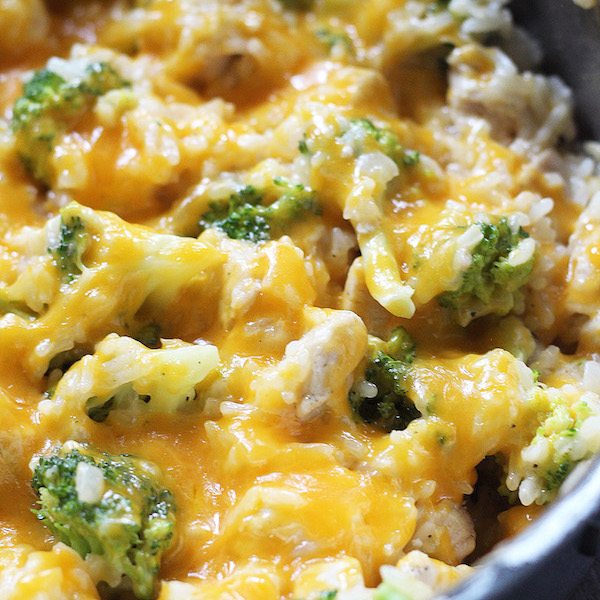 Nutrition facts of Easy Keto Chicken Cordon Bleu Casserole: