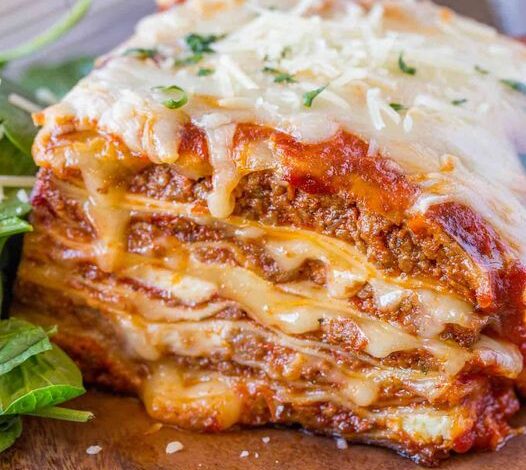 Ingredients:
9 lasagna noodles
1 pound ground beef
1/2 cup diced onion
2 cloves garlic, minced
2 cups marinara sauce
2 cups shredded mozzarella cheese
1 cup ricotta cheese
1/4 cup grated Parmesan cheese
1 teaspoon dried basil
1 teaspoon dried oregano
Salt and pepper to taste
Instructions:
Preheat the oven to 375°F (190°C). Cook the lasagna noodles according to the package instructions until al dente. Drain and set aside.
In a large skillet, cook the ground beef over medium heat until browned. Add the diced onion and minced garlic, and cook until the onion is softened.
Add the marinara sauce, dried basil, dried oregano, salt, and pepper to the skillet with the ground beef mixture. Stir well and let it simmer for about 10 minutes to allow the flavors to blend.
In a separate bowl, combine the ricotta cheese and grated Parmesan cheese. Mix well.
Spread a thin layer of the meat sauce on the bottom of a 9×13-inch baking dish. Place 3 lasagna noodles on top of the sauce.
Spread half of the ricotta cheese mixture over the noodles, followed by a layer of meat sauce. Sprinkle some mozzarella cheese over the sauce.
Repeat the layers with 3 more lasagna noodles, the remaining ricotta cheese mixture, meat sauce, and mozzarella cheese.
Place the final 3 lasagna noodles on top and spread the remaining meat sauce over them. Sprinkle the remaining mozzarella cheese on top.
Cover the baking dish with foil and bake in the preheated oven for 25 minutes. Then, remove the foil and bake for an additional 10-15 minutes or until the cheese is melted and bubbly.
Remove from the oven and let it cool for a few minutes before serving.
Nutrition Information (per serving, assuming 8 servings):
Calories: 463
Total Fat: 22g
Saturated Fat: 11g
Cholesterol: 96mg
Sodium: 679mg
Total Carbohydrate: 33g
Dietary Fiber: 2g
Sugars: 4g
Protein: 33g
Please note that these nutrition values are estimates and can vary depending on the specific brands and ingredients used. It's always a good idea to double-check the labels of the products you use to calculate the accurate nutrition information.