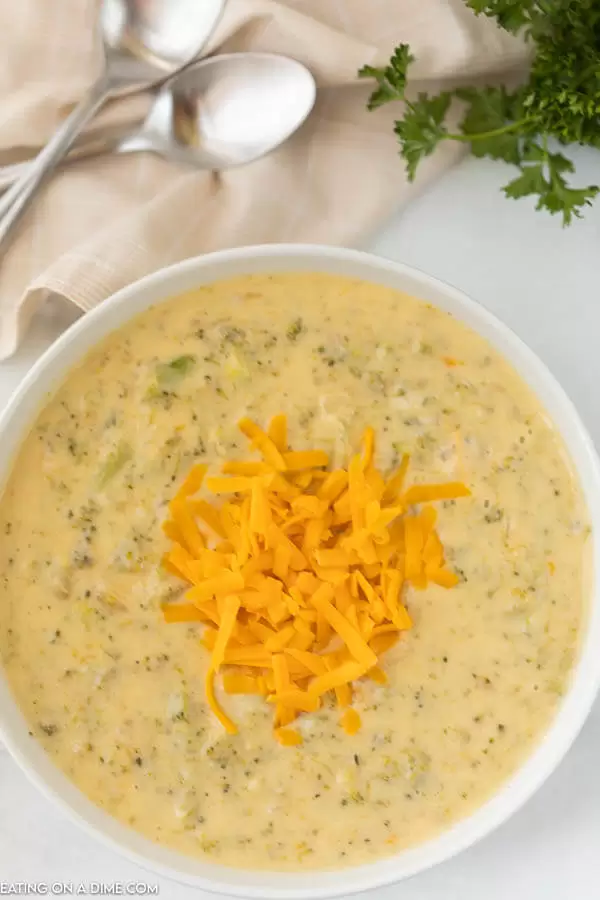 INGREDIENTS
▢4 cups broccoli diced small
▢8 tablespoon butter
▢4 cups cheddar cheese shredded
▢1/2 cup onion diced
▢1/2 cup celery diced small
▢3 cups chicken broth
▢1 cup heavy whipping cream
▢1 teaspoon salt
▢1 teaspoon pepper
▢1 teaspoon Xanthan Gum
Free Keto Meal Plan : KETO DIET PLAN FOR BEGINNERS STEP BY STEP GUIDE
INSTRUCTIONS
Dice up the broccoli into bite size pieces. You want them very small. Set it aside.
Meanwhile in a stock pot, add butter, onion, celery, salt and pepper. Cook over medium heat until the onions are translucent.
Add the broccoli and continue to cook for 3-4 minutes until the broccoli turns bright green and is soft
Add in the chicken broth and heavy whipping cream. Stir.
Bring to a boil. Once boiling turn down the heat to simmer and slowly adding the cheese, mixing as you add.
Melt cheese and add in the Xanthan gum and remove from medium heat.
Stir until soup thickens.
Serve warm and enjoy!
RECIPE NOTES
Refrigerate the leftovers in air tight container for up to 5 days. When reheating, add more chicken broth as the soup will thicken as it cools. 
Free Keto Meal Plan : KETO DIET PLAN FOR BEGINNERS STEP BY STEP GUIDE
NUTRITION FACTS
Calories 457kcal, Carbohydrates 7g, Protein 17g, Fat 41g, Saturated Fat 26g, Trans Fat 1g, Cholesterol 130mg, Sodium 1107mg, Potassium 331mg, Fiber 2g, Sugar 2g, Vitamin A 1668IU, Vitamin C 48mg, Calcium 463mg, Iron 1mg