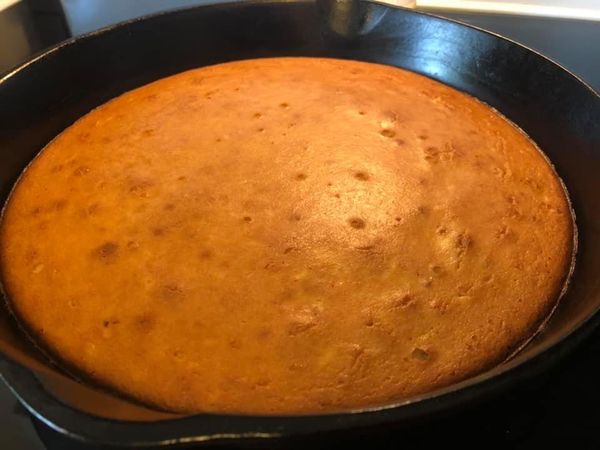 Ingredients:
1 cup almond flour
1/4 cup coconut flour
1/4 cup unsalted butter, melted
1/4 cup sour cream
3 large eggs
1/4 cup unsweetened almond milk (or any non-dairy milk of your choice)
1 tablespoon baking powder
1/2 teaspoon salt
1/4 teaspoon black pepper
1/4 teaspoon garlic powder
1/4 teaspoon onion powder
1/2 cup shredded cheddar cheese
1/4 cup chopped green onions (scallions)
Instructions:
Preheat your oven to 350°F (175°C).
In a large bowl, mix together the almond flour, coconut flour, baking powder, salt, black pepper, garlic powder, and onion powder.
In a separate bowl, whisk the eggs, then add melted butter, sour cream, and almond milk. Mix until well combined.
Gradually add the wet ingredients to the dry ingredients, stirring until you have a smooth batter.
Fold in the shredded cheddar cheese and chopped green onions into the batter.
Heat a cast-iron skillet (about 10 inches in diameter) over medium heat. Grease it with butter or coconut oil.
Pour the batter into the skillet, spreading it evenly.
Transfer the skillet to the preheated oven and bake for 20-25 minutes or until the top is golden brown and a toothpick inserted in the center comes out clean.
Remove the skillet from the oven and let the cornbread cool for a few minutes before slicing and serving.
Full Nutrition Information (per serving):
Please note that the following nutrition information is an estimate and may vary depending on the specific ingredients and brands used.
Servings: This recipe makes approximately 8 servings.
Nutrition per serving:
Calories: 200-220 kcal
Total Fat: 17g

Saturated Fat: 7g
Trans Fat: 0g

Cholesterol: 81mg
Sodium: 260mg
Total Carbohydrates: 5g

Dietary Fiber: 2g
Sugars: 1g

Net Carbs: 3g (Total Carbohydrates – Dietary Fiber)
Protein: 7g
This Keto Cast Iron Skillet Cornbread is a great side dish for various meals and is perfect for those following a low-carb or keto diet. Enjoy!