Blogs
Keto Chocolate Cheesecake Recipe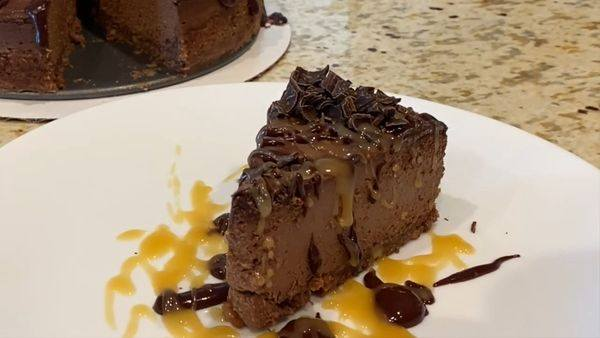 Course: Dessert
Cuisine: Dessert
Keyword: keto chocolate cheesecake
Prep Time: 30minutes minutes
Cook Time: 1hour hour 10minutes minutes
Chill time: 3hours hours
Total Time: 1hour hour 40minutes minutes
Servings: 16 servings
Calories: 336kcal
Ingredients
Crust:
1 cup almond flour
¼ cup cocoa powder
¼ cup powdered Swerve Sweetener
¼ cup butter melted
Filling:
4 ounces sugar-free dark chocolate chopped
1 tablespoon butter
24 ounces cream cheese softened
1 cup powdered Swerve Sweetener
1 teaspoon vanilla extract
3 large eggs room temperature
¼ cup cocoa powder
⅓ cup heavy whipping cream room temperature
Topping:
½ cup whipping cream
¼ cup powdered Swerve Sweetener
2 oz unsweetened chocolate finely chopped
½ teaspoon vanilla extract
Instructions
Crust:
Preheat the oven to 325F. In a medium bowl, whisk together the almond flour, cocoa powder, and sweetener. Stir in the melted butter until well combined.
Press mixture firmly into the bottom of a 9-inch springform pan. Bake 10 to 12 minutes, and then remove and reduce oven temperature to 300F.
Filling:
In a medium saucepan over low heat, melt the dark chocolate with the butter, stirring until smooth. Set aside to let cool.
In a large bowl, beat the cream cheese until smooth. Beat in the sweetener and vanilla extract, then beat in the eggs one at a time, scraping down the beaters and sides of bowl as needed.
Beat in the cocoa powder and heavy cream until well combined, then beat in the melted chocolate until mixture is completely smooth.
Pour the filling into the pan and gently shake from side to side to even it out. Bake 55 to 60 minutes, or until the filling is mostly set but still jiggles just a little in the center.
Remove and let cool 10 minutes, then run a sharp knife around the inside of the pan to loosen. Let cool completely. Once cool, remove the sides, cover tightly in plastic wrap, and refrigerate at least 3 hours.
Topping
In a medium saucepan over medium heat, bring the cream to just a simmer, then remove from heat and add the sweetener, chopped chocolate, and vanilla. Let sit 5 minutes and then whisk until smooth.
Pour over the top of the chilled cheesecake, allowing some to drip down the sides. Chill until set.
Nutrition Facts
Keto Chocolate Cheesecake Recipe
Amount Per Serving (1 serving = 1/16th of cake)
Calories 336Calories from Fat 264
% Daily Value*
Fat 29.3g45%
Carbohydrates 9.1g3%
Fiber 3.8g15%
Protein 6.9g14%
* Percent Daily Values are based on a 2000 calorie diet.