Blogs
Easy Keto Bundt Cake Recipe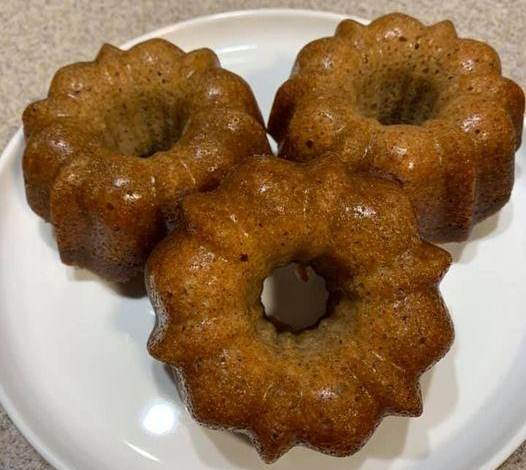 PREP TIME15 minutes
COOK TIME45 minutes
TOTAL TIME1 hour
Ingredients
5 Eggs
4 Tablespoons – 60 gram Sugar Substitute
7 Tablespoons – 60 grams Almond Flour
2 teaspoons – 8 grams Baking Powder
2 Tablespoons – 15 grams Cocoa
Instructions
Heat up the oven to 170 Celsius or 340 Fahrenheit.
Prepare all of the ingredients.
Separate egg whites from egg yolks. Place egg whites into the kitchen machine and beat them until stiff peaks. Set aside.
In a fresh mixing bowl, start with egg yolk and dry ingredients. First, beat together egg yolks with sugar substitute until fluffy and smooth. Once that is mixed, slowly start adding almond flour and keep mixing. When all the almond flour is thoroughly mixed, add baking powder and incorporate that into the batter once again.
Add part of the egg whites into the batter and slowly fold them into the mixture. Keep adding more and more of the egg whites in, and keep folding. Once all of the egg whites are in the batter, gently fold them in until all of the egg whites are incorporated into the mixture, and you do not have any lumps.
Pour ¾ of the batter into the prepared bundt pan. Make sure it is spread evenly inside the pan. Gently hit the pan against the surface for all the bubbles to disappear.
With ¼ of the batter left, add cocoa in and mix the cocoa with your spatula. Make sure no lumps of dry cocoa stays in. Gently pour that on top of the batter inside the pan. Using a stick, the end of the spoon, or the back of your spatula, mix the chocolate part into the cake using circular motions. Check the video for a better understanding.
Place it into the oven and let it bake for 45 minutes.
Notes
Adding egg whites to the mixture is best done with your hands. The kitchen machine might beat them up, and you will not achieve the fluffiness you crave.
If you are not using a silicone pan, I suggest properly oiling your metal pan so the cake will not stick to the bottom. You can sprinkle it with additional almond or coconut flour.
Place the cake pan in the center of the oven, and keep the door closed until fully baked.
After removing from the oven, place the cake onto a cooling rack, leave the cake in a bundt pan and let the cake cool for at least 15 minutes before removing the bundt pan. This makes the cake firmer and easier to remove from the pan without breaking apart.
If you do not have a powdered sugar substitute, you can grind it in the Magic Bullet or coffee grinder in seconds.
Nutrition Information
Yield
16
Serving Size
1Amount Per ServingCalories43Total Fat3gCarbohydrates1gFiber1gProtein3g