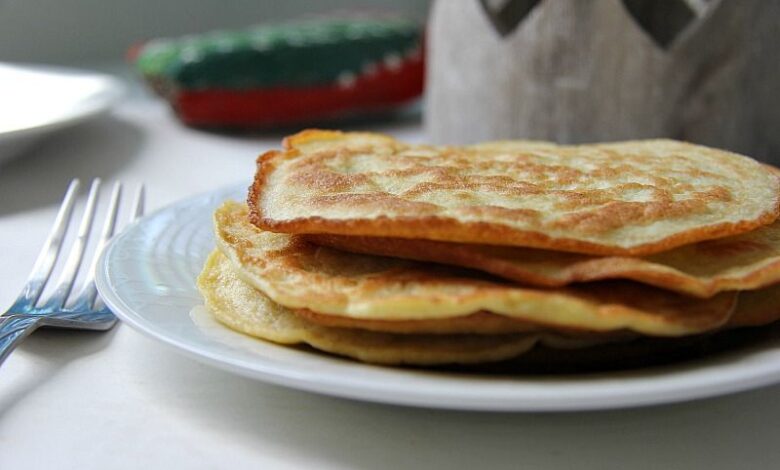 Coconut flour crepes are easy gluten-free crepes perfect to satisfy your sweet tooth with almost no carbs!
INGREDIENTS
4 Eggs
1 tablespoon Coconut Oil melted
¼ cup Unsweetened Almond Milk or water
¼ cup Coconut Cream melted
½ teaspoon Vanilla Extract optional for savory filling
2 tablespoons Coconut Flour
1 tablespoon Almond Flour also known as almond flour/ground almond
Free Keto Meal Plan : KETO DIET PLAN FOR BEGINNERS STEP BY STEP GUIDE
INSTRUCTIONS
In a large mixing bowl, add all the ingredients in this order: eggs, melted coconut oil, almond milk, coconut cream, vanilla extract, coconut flour, and almond meal.
Using a whisk or electric mixer, beat until a smooth batter forms with no lumps. Set aside for 10 minutes to allow the coconut flour to soak the liquid and thicken the batter slightly.
Heat a lightly-oiled mini egg pan or a pancake pan over medium/high heat. I used coconut oil that I rub on the pan with a piece of absorbent paper. My pan is a mini non-stick egg pan size 4.7 inches (12 cm). I recommend a small saucepan of this size to make perfect crepes that won't break.
Pour 1/4 cup of the crepe batter onto the pan, then tip and rotate the pan gently to spread the batter as thinly as possible. Brown on one side first, cook 2-3 minutes until the sides are crispy, and unstick easily from the pan. The center should be set and dry before you flip over to prevent the crepe from breaking.
Brown on other sides for about 1-2 minutes and serve hot with your favorite fillings – see recipe notes for inspiration.
Free Keto Meal Plan : KETO DIET PLAN FOR BEGINNERS STEP BY STEP GUIDE
NOTES
Crepes size: I made 6 mini crepes of 12 cm (4.7 inches) with this recipe. I used a non-stick mini frying pan.
Storage: you can store your crepes on a plate covered with plastic wrap in the fridge for up to 2 days. Rewarm in the pan for a few minutes, add some filling and enjoy.
Low-carb filling ideas: nut butter (almond butter, peanut butter, coconut butter), yogurt, cream cheese, raspberries, monk fruit sugar or erythritol, sugar-free chocolate chips, sliced almond, seeds, or crushed peanuts, etc. In the picture, I used almond butter, erythritol, and fresh raspberries.
Nutrition
SERVING SIZE: 1 mini crepe (4.7 inches)
YIELD: –+ crepes
Serving: 1mini crepe (4.7 inches)Calories: 108kcal(5%)Carbohydrates: 2.5g(1%)Fiber: 1.1g(5%)Net Carbs: 1.4gProtein: 4.6g(9%)Fat: 8.9g(14%)Sugar: 0.3g