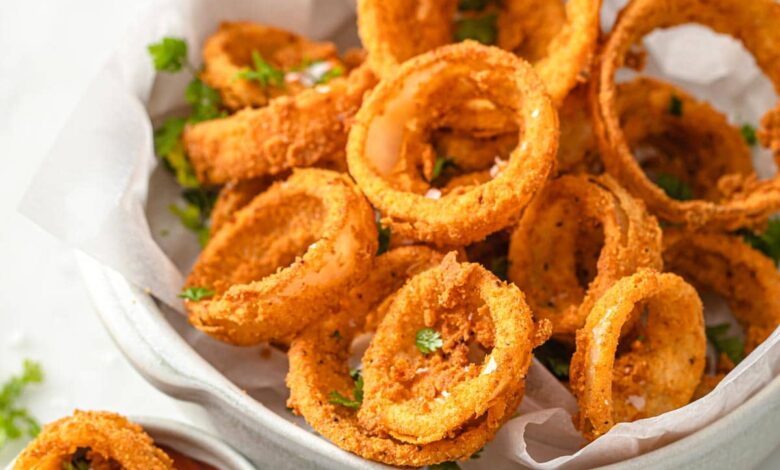 Free Keto Meal Plan : KETO DIET PLAN FOR BEGINNERS STEP BY STEP GUIDE
rep Time5 mins
Cook Time10 mins
Total Time15 mins
CourseAppetizer, Starter or Snack
CuisineBritish
Servings 4
Calories197 kcal
INGREDIENTS
▢120 g onions actual onion rings – 3 onions (170g) and I discarded the ends and tiny bits in the middle
DRY
▢½ cup whey protein powder isolate, 50g
▢1 teaspoon paprika
▢¾ teaspoon garlic powder
▢½ teaspoon flaked salt
▢¼ teaspoon black pepper
WET
▢1 large egg
▢1 teaspoon dijon mustard
▢1 tablespoon sparkling water
▢Oil to fry. Avocado ghee or coconut are best. I used 2 cups.
INSTRUCTIONS
Use a fork to steady the onion. Slice into 1 cm rings. Remove the skin and separate the rings. Discard the ends and the small rings right in the centre.
Heat the oil in a 18 x 9 cm saucepan until really hot and slightly bubbling. The oil should be deep enough to fully cover the onion rings. I used 2 cups.
Place all the dry ingredients in a bowl and mix. Add the wet ingredients to another clean bowl and mix to combine. Dip each onion ring in the wet and then into the dry to fully coat and place on a wire rack. Coat 8 at a time and fry in batches of 4 to avoid the whey batter soaking and disappearing into the egg.
Carefully lower 4 onion rings at a time into the hot oil and fry about 45 seconds or until golden and crisp. Remove the onion rings with a slotted spoon and place on kitchen paper to soak up any excess fat.
Repeat for all the remaining onion rings.
NOTES
Net carbs: 3.3g per portion. Makes 4 portions. I ended up with 22 onion rings in total (5-6 rings per person).
Note – in my nutrition calculation I have assumed that only ¼ of the oil gets consumed.
Serve with sugar free ketchup or mayonnaise. Option to sprinkle with more salt and chopped fresh parsley.
Coat and fry the batter in batches rather than coat all in one go. This will ensure the whey doesn't absorb into the egg mix. I coated 8 onion rings at a time and then fried them in batches of 4. Then I coated more and repeated the frying.
Keto Onion Rings are best consumed fresh out of the pan. The batter will go softer when cool. To crisp up again you can warm in the oven or air fryer for 5 minutes.
NUTRITION
Calories: 197kcalTotal Carbohydrates: 4.2gProtein: 12gFat: 15gSaturated Fat: 2gFiber: 0.8gSugar: 1.5g
Free Keto Meal Plan : KETO DIET PLAN FOR BEGINNERS STEP BY STEP GUIDE