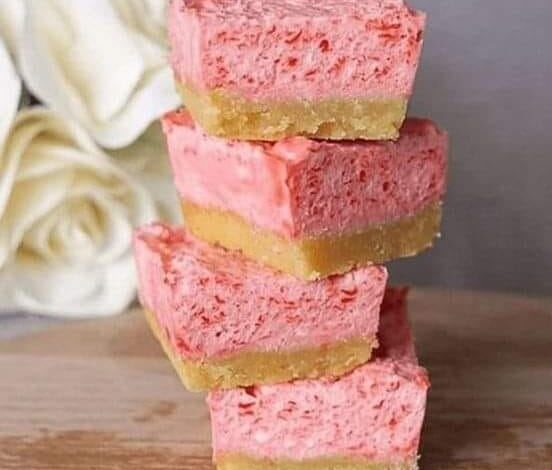 Ingredients:
For the crust:
1 1/2 cups almond flour
1/4 cup powdered erythritol (or sweetener of your choice)
1/4 cup melted butter
For the filling:
16 oz cream cheese, softened
1/2 cup powdered erythritol (or sweetener of your choice)
1 tsp vanilla extract
2 large eggs
1 cup fresh strawberries, chopped
For the strawberry sauce:
1 cup fresh strawberries
2 tbsp water
1 tbsp powdered erythritol (or sweetener of your choice)
Instructions:
Preheat your oven to 325°F (165°C).
In a mixing bowl, combine the almond flour, powdered erythritol, and melted butter for the crust. Stir until well combined and press the mixture into the bottom of a greased 9-inch springform pan. Bake the crust for 10 minutes, then remove from the oven and set aside to cool.
In a separate mixing bowl, beat the softened cream cheese, powdered erythritol, and vanilla extract until smooth and creamy. Add the eggs, one at a time, beating well after each addition. Gently fold in the chopped strawberries.
Pour the filling over the cooled crust and spread it out evenly. Smooth the top with a spatula.
Bake the cheesecake in the preheated oven for 45-50 minutes, or until the center is set and the edges are slightly golden. Remove from the oven and let it cool to room temperature.
While the cheesecake is cooling, prepare the strawberry sauce. In a small saucepan, combine the fresh strawberries, water, and powdered erythritol. Bring to a simmer over medium heat and cook for about 5 minutes, or until the strawberries have softened and released their juices. Remove from heat and let it cool.
Once both the cheesecake and strawberry sauce are cooled, pour the sauce over the top of the cheesecake, spreading it out evenly.
Refrigerate the cheesecake for at least 4 hours, or overnight, to allow it to set completely.
When ready to serve, remove the sides of the springform pan and slice the cheesecake into desired portions. Enjoy!
Nutrition Information (per serving – based on 10 servings):
Calories: 338 Total Fat: 32g
Saturated Fat: 15g Cholesterol: 100mg Sodium: 198mg Total Carbohydrate: 7g
Dietary Fiber: 2g
Sugars: 3g Protein: 8g
Please note that the nutrition information provided is an estimate and may vary depending on the specific brands and ingredients you use.