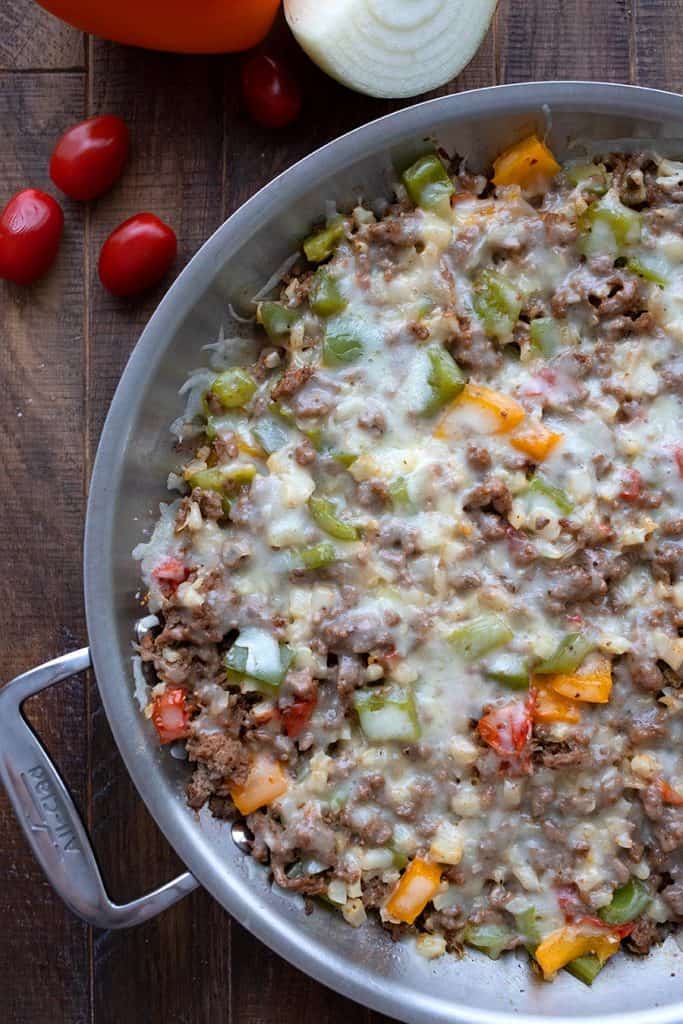 Easy unstuffed peppers! This tasty one pan keto dinner recipe is easy to make and full of classic stuffed pepper flavor. Pair it with delicious low carb red wine from Secco Wine Club. Sponsored by Secco.
Course: Main Course
Cuisine: American
Keyword: stuffed pepper skillet, unstuffed peppers
Prep Time: 5 minutes
Cook Time: 25 minutes
Total Time: 30 minutes
Servings: 6 servings
Calories: 412kcal
Ingredients
2 tablespoon avocado oil
1 ½ lb ground beef
¼ cup chopped onion
2 cloves garlic minced
1 teaspoon Italian seasoning
1 teaspoon salt
½ teaspoon pepper
¼ teaspoon red pepper flakes
12 ounces cauliflower rice fresh or frozen
1 medium green pepper chopped
½ medium red or orange pepper chopped
½ cup diced tomatoes
1 tablespoon tomato paste
2 tablespoon water
1 ½ cups shredded mozzarella
Instructions
In a large 12 inch skillet set over medium heat, heat the oil until hot. Add the beef, onion, garlic, Italian seasoning, salt, pepper, and red pepper flakes. Cook, breaking up any clumps with the back of a wooden spoon, until the beef is nicely browned.
Stir in the cauliflower rice, chopped peppers, diced tomatoes, tomato paste, and water until well combined. Bring to a simmer, then reduce the heat to medium low and cook until the vegetables are tender, about 10 minutes.
Sprinkle the cheese evenly over the skillet and cover with a lid. Cook 3 to 4 minutes more, until the cheese is melted.