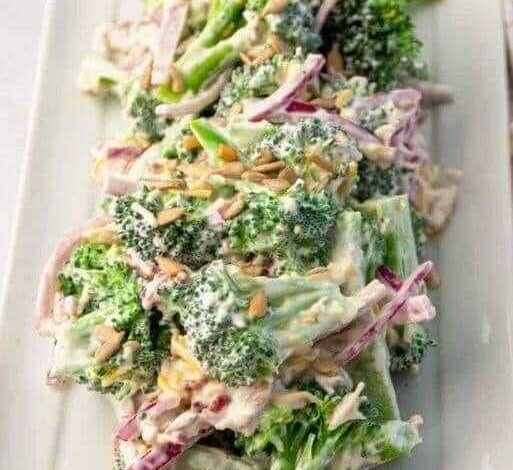 Ingredients:
2 cups fresh broccoli florets
1/4 cup diced red onion
1/4 cup diced red bell pepper
2 tablespoons chopped fresh parsley
2 tablespoons chopped almonds or sunflower seeds
1/4 cup crumbled feta cheese (optional, omit for a dairy-free version)
For the Dressing:
2 tablespoons olive oil
1 tablespoon apple cider vinegar
1 teaspoon Dijon mustard
1 clove garlic, minced
Salt and pepper to taste
Instructions:
In a large mixing bowl, combine the broccoli florets, diced red onion, diced red bell pepper, chopped parsley, chopped almonds or sunflower seeds, and feta cheese (if using).
In a separate small bowl, whisk together the olive oil, apple cider vinegar, Dijon mustard, minced garlic, salt, and pepper to make the dressing.
Pour the dressing over the broccoli mixture and toss everything together until the salad is well coated.
Refrigerate the salad for at least 30 minutes before serving to allow the flavors to meld.
Serve chilled and enjoy your delicious low-carb broccoli salad!
Nutritional Information (per serving): (Note: Nutritional values are approximate and may vary based on specific ingredients and brands used)
Calories: ~180 kcal
Total Fat: ~14g

Saturated Fat: ~3g
Trans Fat: 0g

Cholesterol: ~5mg
Sodium: ~180mg
Total Carbohydrates: ~10g

Dietary Fiber: ~4g
Sugars: ~3g

Protein: ~6g
This low-carb broccoli salad is packed with nutrients, fiber, and healthy fats, making it a perfect side dish or light meal for those looking to reduce their carbohydrate intake. Enjoy!