Blogs
Low Carb Enchiladas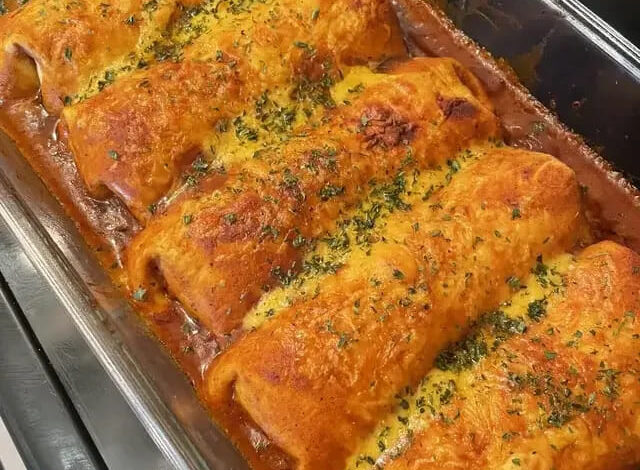 Free Keto Meal Plan : KETO DIET PLAN FOR BEGINNERS STEP BY STEP GUIDE
Low Carb Enchiladas! So good they made me forget I was doing keto. (8.6 carbs per serving)
Here is the recipe:
Sauce:
3 TBSP almond flour 3 TBSP olive oil 1 1/2 TBSP of chili powder 2 tsp of cumin 1/2 tsp of garlic powder 1/4 tsp paprika 1/4 tsp of ground oregano A pinch of nutmeg 1 tsp of salt 1/4 tsp of pepper 2 TBSP of tomato paste 2 cups of chicken broth
Enchiladas: 5 Low carb tortillas Sharp cheddar cheese 2lb Chicken breast Chili powder Paprika Salt Garlic powder Onion powder Cumin Ground oregano Pepper Olive oil 1 cup of chicken broth 1 jalapeño Optional: Parsley for garnish
Chicken:
Take defrosted (or unfrozen) chicken and sprinkle both sides with: chili powder, paprika, salt, pepper, garlic powder, onion powder, cumin, and ground oregano.
I used a Dutch oven but you can any pan with a lid. Heat up the pan, add 1 tbsp of olive oil and brown chicken on each side (about 3 to 4 min per side)
Then add 1 cup of chicken broth and cook on low heat for 30 minutes.
Shred chicken and set aside. I added the jalapeño diced really small to the chicken, and I always add some of the sauce to the shredded chicken so it's not dry.
Sauce:
Add olive oil and almond flour to a pan and stir until combined. Add in all the seasoning.
Then add in half the chicken broth and the tomato paste. Stir till fully combined.
Then mix in the last cup of chicken broth and cook for about 10 minutes.
Assembling the enchiladas:
Take a low carb tortilla on a place and microwave for 20 seconds. So it's warm and folds better
Brush both sides of the tortilla with enchilada sauce.
Add as much chicken and cheese as possible, then fold.
Add to a baking dish that has been sprayed.
Repeat steps 1 through 4 until all chicken is used.
Pour the rest of the sauce over top. Add cheese and bake at 375 for 30 minutes. I then broiled it the last bit until the cheese was nice and bubbly. Then garnishes with paprika.
Tip: this can be made in advance. Make chicken and sauce early in the week so all you have to do it assembly the day of.
Free Keto Meal Plan : KETO DIET PLAN FOR BEGINNERS STEP BY STEP GUIDE
Sauce:
3 TBSP almond flour
3 TBSP olive oil
1 1/2 TBSP of chili powder
2 tsp of cumin
1/2 tsp of garlic powder
1/4 tsp paprika
1/4 tsp of ground oregano
A pinch of nutmeg
1 tsp of salt
1/4 tsp of pepper
2 TBSP of tomato paste
2 cups of chicken broth
Enchiladas:
5 Low carb tortillas
Sharp cheddar cheese
2lb Chicken breast
Chili powder
Paprika
Salt
Garlic powder
Onion powder
Cumin
Ground oregano
Pepper
Olive oil
1 cup of chicken broth
1 jalapeño
Optional: Parsley for garnish
Free Keto Meal Plan : KETO DIET PLAN FOR BEGINNERS STEP BY STEP GUIDE