Blogs
LOW-CARB STUFFED SPAGHETTI SQUASH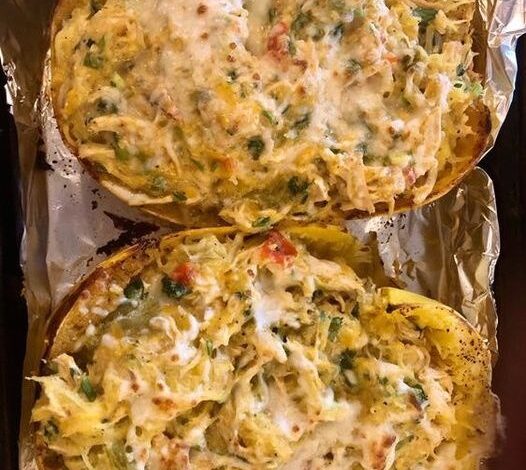 Free Keto Meal Plan : KETO DIET PLAN FOR BEGINNERS STEP BY STEP GUIDE
PREP TIME: 20MINUTES MINUTES
COOK TIME: 10MINUTES MINUTES
SERVINGS: 4 SERVINGS
INGREDIENTS
▢2 small spaghetti squashes – or 1 large
▢1 lbs ground meat (lamb, beef, turkey) or 2 cups cooked green lentils for vegetarian
▢1 tsp chili powder
▢1/2 tsp cumin
▢1/2 tsp coriander
▢1/2 tsp paprika
▢1 onion
▢2 cloves of garlic
▢1 red bell pepper
▢1 Tbsp tomato paste
▢1 bunch kale
▢avocado oil
▢sea salt
▢pepper
▢1.5 cups shredded cheese – I love a mix of cheddar and Parmesan
▢parsley – for garnish
INSTRUCTIONS
Cut spaghetti squash(es) in half leghtwise and then bake or pressure cook.To bake: add to a baking sheet, oil lightly inside and out and bake at 400F for 40-45 mintues.To pressure cook: add 1 cup water to the bottom of the cooker, then the trivet, then add halved spaghetti squash UNoiled to the trivet and set to 8 minutes on high pressure. Release pressure manually. Remove the squash halves and place on a baking sheet.
In the meantime, finely chop onion and garlic, dice bell pepper, and destalk and slice kale, and set aside.
Preheat a large pan over medium heat and once hot add a drizzle of avocado oi. Add ground meat and break apart.
Season the meat with coriander, cumin, paprika, chili powder, sea salt and pepper and keep breaking apart. Once nice and brown, remove the meat from the pan and set aside.
Remove excess fat from the pan and then stir fry onion and garlic until starting to brown.
Add tomato paste, diced bell pepper, and browned meat, reduce heat to low, put on the lid, and let simmer for approximately 5 minutes.
Add sliced kale and put the lid back on and let steam for another 5 minutes.
Ladle the meat kale filling into the spaghetti squash halves, sprinkle with grated cheese, and place under the broiler for 4-6 minutes or until the cheese melted and browned to your liking.
NOTES
Nutritional calculation with 85% lean ground beef.
Fat content and calories go down significantly by using ground turkey (more than 100 cals per serving). They also go down with lentils but carb content goes up with lentils.
NUTRITION
Calories: 523kcal | Carbohydrates: 34g | Protein: 36g | Fat: 29g | Saturated Fat: 13g | Polyunsaturated Fat: 2g | Monounsaturated Fat: 10g | Trans Fat: 1g | Cholesterol: 110mg | Sodium: 458mg | Potassium: 1154mg | Fiber: 6g | Sugar: 12g | Vitamin A: 7483IU | Vitamin C: 116mg | Calcium: 403mg | Iron: 5mg
Free Keto Meal Plan : KETO DIET PLAN FOR BEGINNERS STEP BY STEP GUIDE