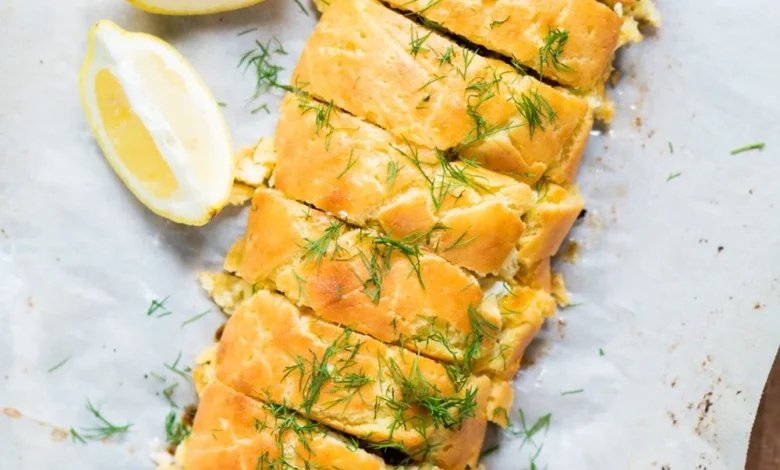 These gluten free and keto smoked salmon and ricotta pastries are truly exquisite. And note, that we don't take that word lightly.
Time:
PREP TIME 20 mins
COOK TIME 30 mins
TOTAL TIME 50 mins
INGREDIENTS
For the keto pastry dough:
1 batch suuuper flakey cream cheese keto pie crust with lemon zest
For the salmon & ricotta filling:
180 g ricotta cheese
1 tablespoon extra virgin olive oil
1/2 teaspoon lemon zest
1/2-1 tablespoon lemon juice to taste
1/8-1/4 teaspoon kosher salt
2 tablespoons capers roughly chopped
2 tablespoons fresh dill
125 g smoked salmon
1 egg lightly beaten for egg wash
Free Keto Meal Plan : KETO DIET PLAN FOR BEGINNERS STEP BY STEP GUIDE
INSTRUCTIONS
For the keto pastry dough:
Add almond flour, coconut flour, xanthan gum, salt and lemon zest to food processor and pulse until evenly combined.
Add butter and cream cheese and pulse for just a few seconds until crumbly. Add in egg and vinegar and pulse until the dough just begins to come together (but stop before it forms into a ball).
Turn out the dough onto cling film and form into a round.
Refrigerate for at least one hour, or up to 3 days.
For the salmon & ricotta roll-up:
Preheat oven to 350°F/180°C.
Mix ricotta, olive oil, lemon zest, lemon juice in a small bowl and season with salt to taste. Set aside.
Roll out pastry dough in between two sheets of parchment paper, lightly dusting with coconut flour as needed. Trim the edges with a pastry wheel or knife (and make some small crackers out of it!).
Spread a layer of lemon ricotta on the pastry, sprinkle with capers and dill, and add a layer of smoked salmon.
Roll up the pastry, using the parchment paper as an aid. Remember that gluten free doughs are much more fragile, so you do need the aid of parchment or wax paper here.
Brush with egg wash and transfer to a baking tray. Bake for 27-30 minutes, until golden all over.
Allow to cool for 10 minutes before cutting, and serve with lemon wedges. 
Free Keto Meal Plan : KETO DIET PLAN FOR BEGINNERS STEP BY STEP GUIDE
NUTRITION
Calories: 257kcal | Carbohydrates: 5g | Protein: 9g | Fat: 22g | Saturated Fat: 10g | Cholesterol: 80mg | Sodium: 462mg | Potassium: 67mg | Fiber: 2g | Vitamin A: 520IU | Vitamin C: 0.2mg | Calcium: 79mg | Iron: 0.9mg