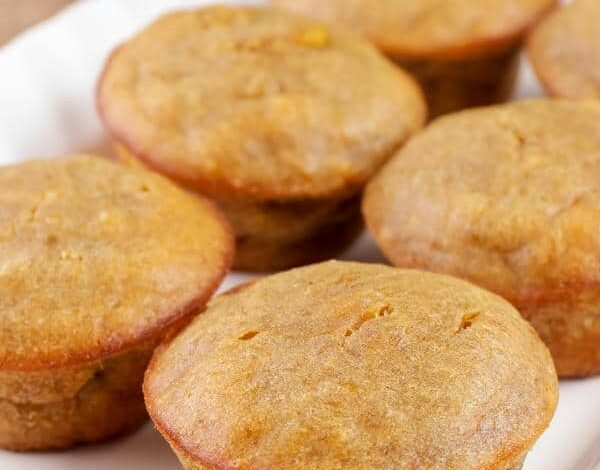 These peanut butter muffins are flourless, low carb, and keto-friendly. This is an easy, one-bowl recipe that is ready in less than 30 minutes from start to finish. The mini muffins make a great snack or breakfast.
Time and servings:
Servings: 18 MINI MUFFINS
Prep time: 10 MINUTES
Cook time: 12 MINUTES
Total time: 22 MINUTES
INGREDIENTS
1/4 cup creamy unsweetened peanut butter
1/2 tsp baking powder
2 large eggs
3 tbsp erythritol granular
1/4 cup sugar free chocolate chips
Free Keto Meal Plan : KETO DIET PLAN FOR BEGINNERS STEP BY STEP GUIDE
INSTRUCTIONS
Preheat oven to 350°F. Line your mini muffin tin with muffin liners.
In a large mixing bowl, add all ingredients except chocolate. Mix with a whisk until batter is smooth and no egg streaks remain. Stir in half of the chocolate.
Fill cupcake liners 2/3 full with batter. Sprinkle a few chocolate chips onto each muffin. The batter should be thick enough so that the chocolate does not sink down. Do not push the chocolate chips down as they will sink in a little when the muffins are baking.
Bake for about 12 minutes until muffin tops look completely cooked and a toothpick inserted comes out clean.
NOTES
The muffins are not overly sweet. If you prefer sweeter, cupcake-like muffins you can add more sweetener to the batter.
If you plan on omitting the chocolate, definitely add more sweetener as the chocolate contributes to the sweetness of the muffins.
I used this Wilton mini muffin pan* and these mini muffin cups*.
I used Lily's semi-sweet chocolate chips* and erythritol granular*.
Mini muffin tins come in a few different sizes. My cooking directions were based on the usage of the Wilton mini muffin pan. If your mini muffin molds are slightly bigger or smaller, you will have to adjust the cooking time accordingly.
*Some of the product links contained in this post are affiliate links. Much like referral codes, this means I earn a small commission if you purchase a product I referred (at no extra charge to you).
The estimated nutrition carbohydrates count excludes sugar alcohols. The net carbs excludes both fiber and sugar alcohols.
Free Keto Meal Plan : KETO DIET PLAN FOR BEGINNERS STEP BY STEP GUIDE
NUTRITION
serving: 1muffin, calories: 38kcal, carbohydrates: 2g, protein: 2g, fat: 3g, saturated fat: 1g, sodium: 7mg, fiber: 1g, sugar: 1g, net carbs: 1g