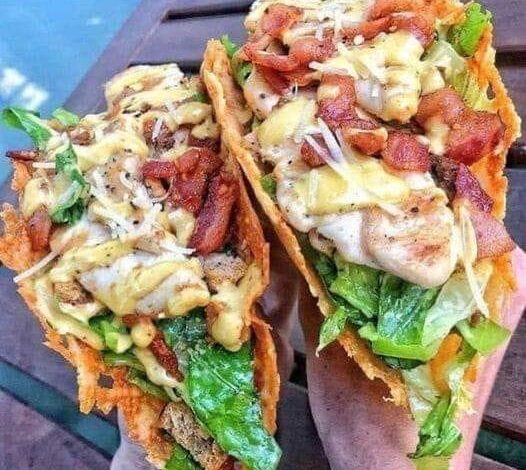 Ingredients:
For the Chicken:
2 boneless, skinless chicken breasts
1 tablespoon olive oil
Salt and pepper to taste
1 teaspoon garlic powder
1 teaspoon paprika
For the Caesar Salad:
4 cups romaine lettuce, shredded
1/4 cup Caesar dressing
1/4 cup grated Parmesan cheese
1/4 cup croutons (optional)
For the Tacos:
8 small tortillas (corn or flour)
Instructions:
Preheat the oven to 400°F (200°C).
Season the chicken breasts with salt, pepper, garlic powder, and paprika. Heat olive oil in a skillet over medium heat. Cook the chicken breasts for about 6-8 minutes per side until cooked through. Remove from heat and let them rest for a few minutes. Once rested, slice the chicken into thin strips.
In a large bowl, combine the shredded romaine lettuce, Caesar dressing, Parmesan cheese, and croutons. Toss well to coat the lettuce evenly.
Warm the tortillas in a dry skillet or microwave until pliable.
To assemble the tacos, place a generous amount of the Caesar salad mixture onto each tortilla. Top with the sliced chicken strips.
Serve the Chicken Caesar Salad Tacos immediately and enjoy!
Nutrition Information (per serving, assuming 2 tacos):
Calories: 360 Total Fat: 14g
Saturated Fat: 3.5g
Trans Fat: 0g Cholesterol: 65mg Sodium: 600mg Total Carbohydrate: 32g
Dietary Fiber: 4g
Sugars: 2g Protein: 27g
Please note that these values are approximate and can vary based on the specific ingredients used and portion sizes. It's always a good idea to check the labels of the products you use for accurate nutritional information.