Blogs
Creamy Tuscan Shrimp and Scallops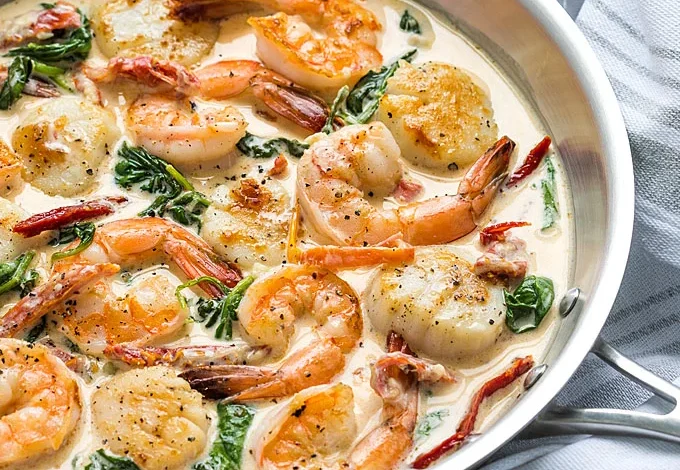 Free Keto Meal Plan : KETO DIET PLAN FOR BEGINNERS STEP BY STEP GUIDE
Total Time: 20 minutes Yield: 4 servings
Ingredients
½ pound sea scallops
½ pound large shrimp, peeled and deveined
½ teaspoon kosher salt (more or less, to taste)
¼ teaspoon freshly cracked black pepper (more or less, to taste)
2 tablespoons olive oil
1 tablespoon freshly minced garlic
1 cup chicken broth
1 cup heavy cream
¾ cup sun dried tomatoes in oil, drained and thinly sliced
¾ cup shredded Parmesan cheese
¼ teaspoon Italian seasoning
3 cups tightly packed fresh spinach
Instructions
Rinse scallops and shrimp and pat dry with a paper towel. Season both sides with salt and pepper.
Heat olive oil in a large skillet over medium high heat. Cook scallops first – Cook scallops on each side for approximately 2-½ minutes, or until browned. Transfer to a plate.
Add more olive oil to the skillet if necessary and cook shrimp – Cook for about 1-½ minutes on each side or until shrimp have just turned pink on both sides. Transfer to the plate with the cooked scallops and set aside.
Add garlic to skillet and cook until fragrant, stirring constantly (about 30 seconds).
Add broth, cream, sun dried tomatoes, Parmesan cheese and Italian seasoning. Stir well to combine.
Bring to a boil, reduce heat and simmer 3-4 minutes. Add spinach and continue to simmer until spinach is wilted and sauce is slightly thickened (about 1-2 minutes).
Season with salt and pepper, if desired.
Return shrimp and scallops to skillet and serve topped with cream sauce.
Optional: serve over cooked pasta, if desired.
Prep Time: 5 minutes
Cook Time: 15 minutes
Category: Seafood
Method: Sauté
Cuisine: Italian
Free Keto Meal Plan : KETO DIET PLAN FOR BEGINNERS STEP BY STEP GUIDE