Blogs
Garlic Butter Ribeye Steak And Shrimp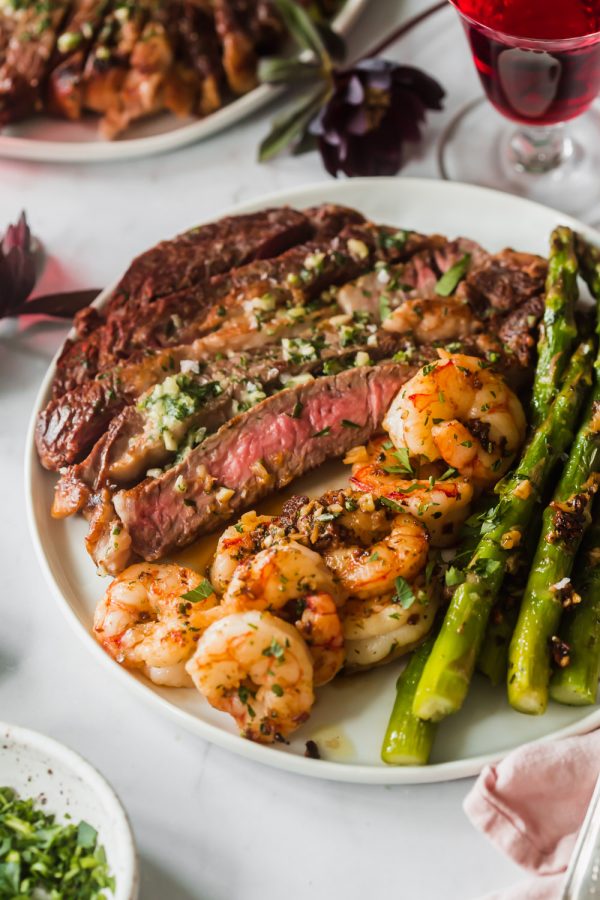 Prep Time: 5 mins
Cook Time: 15 mins
Total Time: 20 mins
Servings: 2 serving
This juicy and savory surf and turf recipe is the perfect choice for date night. Succulent Ribeye Steak and pan-seared shrimp are drizzled in creamy garlic butter to make each bite burst with flavor.
Ingredients
1 beef Ribeye Steak
16 extra-large shrimp deveined with tails on or off
5 tbsp unsalted butter softened and divided
3 cloves garlic finely chopped
2 tbsp fresh parsley chopped
3 tbsp olive oil divided
12 spears asparagus trimmed
sea salt to taste
Instructions
At least 30 minutes before cooking make sure your shrimp have been thawed. before cooking.
Make the garlic butter by mixing 4 tablespoons of butter, garlic, and chopped parsley together in a bowl. Cover and refrigerate until ready to use.
Heat a large grill pan or cast iron pan over high heat. Lightly grease the pan with oil. Pat steaks dry with a paper towel. Brush each side lightly with ½ tbsp of oil and generously season with salt.
Sear the steak for 3-5 minutes on each side until browned and cooked to desired doneness as measured with an instant-read or oven-proof thermometer. Transfer the steak to a warm plate. Spread 1 tablespoon of butter all over the steak. Tent it with foil and let it rest for at least 5 minutes while you prep the rest.
While steaks are resting, wipe down the pan and melt 2 tablespoons of butter with 1 tablespoon of olive oil on medium-low heat. Add asparagus and 4 tablespoons of water. Cook the trimmed asparagus for 5 minutes, rotating every minute. (Careful not to burn the garlic, if heat is too high, lower to low). Season with salt. Remove to serving platter.
Season shrimp with salt on both sides. Wipe down the same pan, bring the pan to medium heat, melt the remaining 2 tablespoons of butter and 1 tablespoon of olive oil. Add shrimp and cook for 2-3 minutes, flip and cook for another 2-3 minutes. (Depending on the size and thickness of your shrimp). Note: They should be pink in color while white and opaque on the inside
Add the shrimp to a serving plate. Cut the steak into thin strips against the grain, add to the serving platter along with shrimp and asparagus. Drizzle with the leftover pan juices and melted herbed garlic butter.
Notes
Before cooking. At least 30 minutes before cooking make sure your shrimp have been thawed. before cooking.
If Ribeye Steak isn't for you, feel free to replace it with a different cut, Strip, Sirloin, T-bone, Eye fillet, Scotch fillet, or Porterhouse steaks.
Cooking the shrimp with the tail on or off is fine. If using frozen shrimp, make sure it has completely thawed first and then patted dry with a paper towel before cooking.
Course: dinner
Cuisine: american
Keyword: beef, dates, dinner, easy dinner, ribeye, seafood, steak, weeknight dinner
Nutrition
Calories: 729kcal | Carbohydrates: 2g | Protein: 33g | Fat: 66g | Saturated Fat: 28g | Trans Fat: 1g | Cholesterol: 265mg | Sodium: 439mg | Potassium: 402mg | Fiber: 1g | Sugar: 1g | Vitamin A: 1274IU | Vitamin C: 9mg | Calcium: 101mg | Iron: 4mg